Constitution Park is located between Fletcher Avenue & Lewis Street & Linwood Avenue, Fort Lee, NJ.
http://www.fortleenj.net/parks-recreation/constitution.html
Mira from MiraBest.com, had suggested this park to visit, so I did! It was great, however I made the mistake of forgetting a very important cross-street, Lewis. So it took a call to the Parks & Rec Dept. to find it. Bring some change to feed the meter. Restrooms right next to bocce court. What a nice park, and they a really great "Life Trail" designed for wheelchairs. They have a great spongy floor on the main playground, and I committed a major faux pas by not taking pictures of the other part of the park which had some other equipment that might be ADA 🙁 I will get those pictures, since visiting Fort Lee means visiting my chocolatier friend, Dina. Very picturesque, great walking square, and frequent ice cream trucks still in September.
On another note, if you are a Bergen County parent looking to throw a party in a park, make sure you check out "Party in a Park in Bergen County" by Mira, gives you the lowdown, and all the info you need to make a successful party. Fall weather is still warm enough for a party outside. Play outside as much as you can before we have to dig out the snow shovels and snowsuits.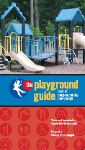 Bergen County boasts over 250 playgrounds, and one guide that shows them all. By purchasing this Bergen county playground guide via this link, you are supporting the efforts of our NJ Playgrounds Site and Amy Lamperti of "the playground guide", another fabulous mom of 3.