Maple Pl. and Vreeland Avenue, Nutley, NJ.  For detailed Nutley Parks and Recs information on the web click here. 
So far I think I've enjoyed this beautiful playground in Memorial Park the most for feeding ducks. 
A couple of playground structures, plenty of swings and a very picturesque walking path adds to the attraction of this park.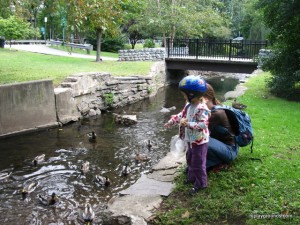 No bathrooms closeby but there is a Shoprite within walking distance if you can make it in time with potty-training children.  I really enjoyed walking here and look forward to exploring more of Nutley's parks.
Thanks to @ecdesignz for this recommendation we will definitely return and perhaps add some reviews of the kid-friendly places nearby.  Take a glance of our pictures below, we did a few "patching up" pictures to get a better panoramic view of the park.  Enjoy!