Thanks to Cory Booker, Bari Mattes, Rose Farias who via twitter was able to hook me up with the lowdown on Newark Parks. Great to chat with a Newark dad at this park, wish you luck in finding employment in the graphic design world.  The upside of being unemployed is spending time with the kids, I can tell your kids really enjoyed playing with you, so keep up the great work 🙂
8th Avenue and Clifton Avenue, Newark, NJ. 
You can park on the street but I prefer driving into Branch Brook park by 7th Avenue and Clifton.  (you can follow the directions to the roller rink there) I tweeted about not being able to find this park when I looked this past summer, so make sure you take note of the intersection and not just head to Branch Brook, the map there doesn't help much.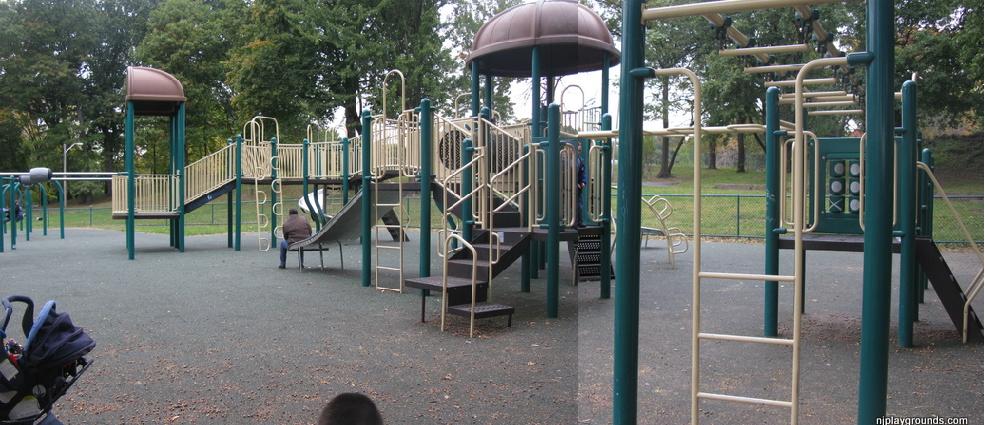 Branch Brook has over 350 acres of land, ballfields, tennis, horseshoes, beautiful cherry blossoms in April, and wonderful walking/running paths.  On the south side, you'll find this playground, great active and big play area with 2 play structures, plenty of swings, a rare merry-go-round, bouncy seats, and a spongy floor.  Boys had alot of fun on the merry-go-round with other kids, you don't find many of those these days.
For more information on other aspects of Branch Brook besides the playground check out this link.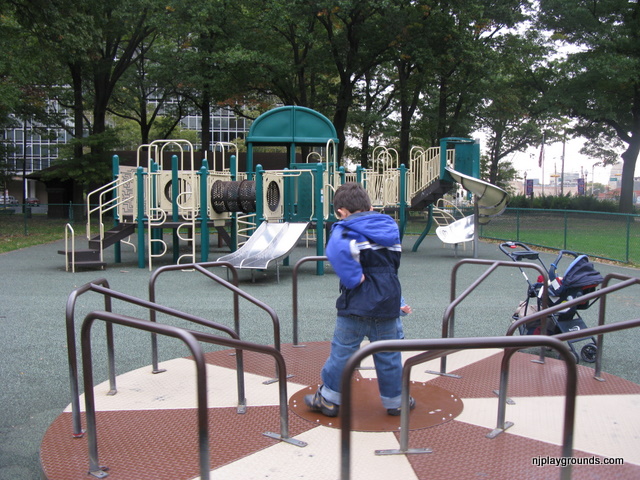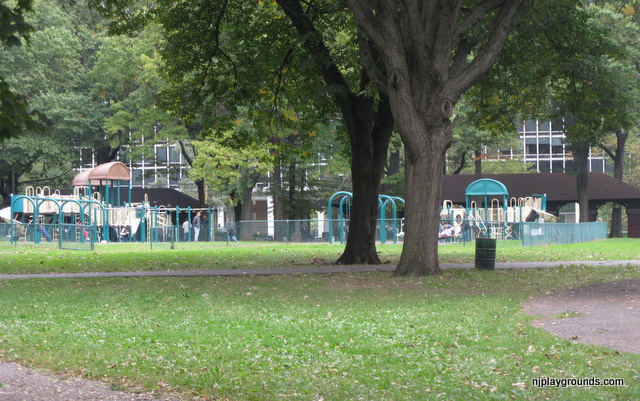 The dedication for this playground is special and made me a little teary (from Essex County Website):
"Essex County Executive Joseph N. DiVincenzo, Jr. remembered the spirit and enthusiasm of the late Shakil Williams by dedicating the Branch Brook Park playground on Clifton Avenue as the "Essex County Shakil Williams Playground" on Monday, May 22nd. An avid fisherman, the 12-year-old Williams was a regular participant in Essex County's annual fishing derbies and was an 11-time derby champion.

"Shakil was a fun-loving kid who enjoyed playing in the park and casting his line for some fish – and he was a better fisherman than many of us will ever be. More importantly, for such a young child, he was a brave fighter who confronted his disease and never lost his spirit," DiVincenzo said. "Naming this playground for Shakil is a lasting tribute and will provide joy and inspiration for future generations of young fishermen," he added.

"Shakil was a true soldier, a warrior. He fought his fight," said his father, Kevin Brown. "From the bottom of my heart, I say thank you to Joe DiVincenzo, the freeholders and everyone who came to help when we were in need," he added.

Known to everyone as "Shak," Shakil Leonard Williams was born on December 16, 1993, and was a lifelong resident of Newark. He was an honor roll student at Peshine Avenue School in Newark and participated as a youth member of the African American Heritage Statewide Parade and Festival.

"Today we are celebrating the memory of Shakil Williams. He was a very loving child because he was surrounded by love. He showed us his strength and courage and his memory will last for years to come because of this playground," said Essex County Vocational School Assistant Superintendent Ivan Holmes, who served as Principal of Peshine Avenue School when was a student there.

"There are kids in the hospital struggling for their life, just like Shakil did. Because of Shakil, I encourage you to spread the word about participating in blood drives and bone marrow drives so we can save lives," said Donald Bernard, Chairman of the African American Heritage Statewide Parade and Festival. Bernard noted that this year's parade and festival will be dedicated to Shakil Williams.

Shakil enjoyed the sport of fishing and regularly participated in the annual Essex County Fishing Derbies held in Branch Brook Park, Weequahic Park, Verona Park and Grover Cleveland Park. He was proud of the 11 trophies he won at the fishing derbies.

Shakil was diagnosed with leukemia at the age of 11 and fought bravely to overcome the disease while waiting for a bone marrow transplant. When he became hospitalized, he brought his fishing derby trophies to his hospital room for inspiration. On December 18, 2005, two days after his 12th birthday, Shakil passed away."