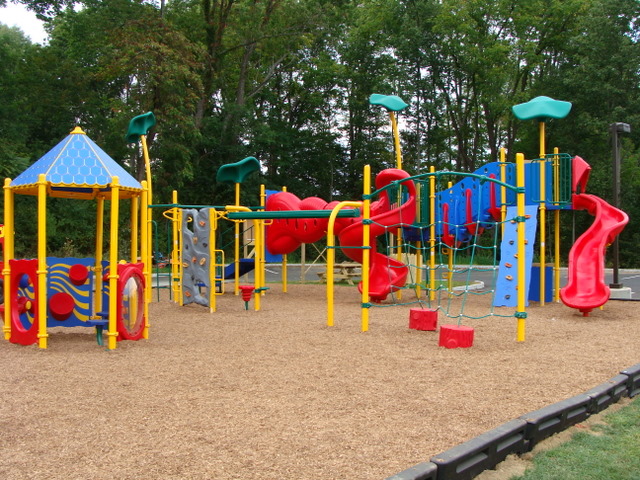 I'm closely working with Amy Lamperti of the Playground Guide, a comprehensive guide to all the playgrounds in Sussex County. This is an excerpt from her fantastic listing about the Sussex YMCA Playground in Hardyston, NJ. Over 40 of Sussex County parks are featured with color pictures in this guide + helpful information on every park in the county. These include parks in the south section of Sussex- Hillside Park in Andover, C.O. Johnson Park in Byram, Evergreen Park in Green and the Helen Morgan School in Sparta. This book also contains all playgrounds in Warren County. Please support our efforts in providing parents information for them to enjoy the outdoors with their kids by clicking on this link. Each purchase through the link helps us keep going and finding new places to explore 🙂

DIRECTIONS: From Sparta, take Rte 15 to Rte 94N. Follow 5.6 miles into Hardyston, then turn left onto Wits End Dr. YMCA will be visible in 1/10 mile – park in the main lot or the smaller lot by the playground on the right.
DESCRIPTION: A bright, brand new playground built by Kaboom! in partnership with the local community and the YMCA. Many unique play features, including a fire truck that fits several kids and a musical gazebo featuring bongos, bells and more. Bathrooms, drinking fountains, and vending machines are available in the building when the YMCA is open.
PARKING: Large
PICNICKING: Three picnic tables
HANDICAP: Wheelchair ramp into the playground
CLIMBING: Bars, walls, rope, monorail, parallel bars, jungle gym, stairs, steps
PLAYTHINGS: Steering wheel, storefront, prints underneath, looking glass, hanging spinning wheels
SANDBOX: Large sandbox with a digger and a very cool dinosaur 'skeleton' at the bottom to uncover
SLIDES: One curved, one corkscrew
SPORTS: One basketball hoop
SWINGS: Two toddler, three full size, one tire, one chair
MAKE A DAY OF IT: The YMCA has programs available for members or non-members – stop in while you're there to see what's available for your family.