A BIG THANK YOU to Sara Rall for this guest post, truly a unique place to visit, and to enjoy nature
Hacklebarney State Park, 119 Hacklebarney Rd in the Long Valley section of Washington Township (Morris Co.) is one of my kids' favorite places in the summer. (For all pictures check out the bottom of this post)
Yes, they do have a playground, but, frankly its existence is just my excuse for including this wonderful park in here. In the dozens of times I've been here this was only the second time I even passed the playground.
If you wish to get to the playground, head past the bathrooms from the parking lot, and stay to the right and up hill at every intersection. It's probably a half-mile walk on a paved path through beautiful woods to a
small, pleasant playground with some picnic tables.
But the real highlight of the park are the boulders in the "river" (really more of a brook. This is not for the 3 and under set, unless they are so little they stay in the stroller the whole time.
That said, from the parking lot, pass the bathrooms, either take the big set of stairs on the left or follow the paved red trail downhill to the brook.
Where the red trail crosses the brook, to the right is a "waterfall" of very large boulders that older kids adore to climb down, and to the left is what my kids think is the absolute coolest place to have a picnic/barbeque ever.
You can eat and grill on a little island right in the middle of the brook, and the kids can splash around in ankle deep-water, all in deep shade of huge trees in the ravine.
There is a second set of bathrooms down here, and you can follow trails further to a bigger and much flatter river down below. At no time is "swimming" allowed, but splashing is expected. Bring a change of clothes for
those kids who hate being wet, and water shoes are a great idea.
If you have elementary school aged kids do not miss this park.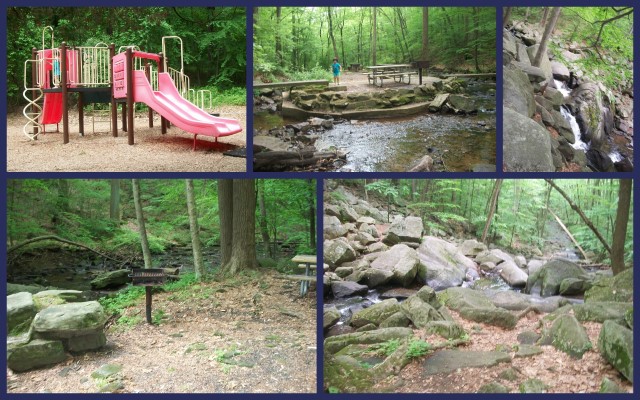 From the NJ State Parks Dept of Environmental Protection site:
The freshwater Black River briskly cuts its way through rocky Hacklebarney State Park, cascading around boulders in the hemlock-lined ravine. Two tributaries, Rinehart and Trout Brooks, also course their way through this glacial valley, feeding the Black River. Even in the heat of midsummer, the temperature of Black River gorge is cool and refreshing.

Today Hacklebarney is a favorite place for avid anglers, hikers and picnickers, yet in the 19th century the park was a mined iron ore site. The gushing river against the grey boulders and dark green hemlocks creates a majestic beauty in any season.

Three rare and endangered plant species exist within the park: American ginseng, leatherwood and Virginia pennywort. Over a hundred bird species and wildlife such as black bear, woodchuck, deer and fox live in the park.

Horseback riding is not permitted in the park.