Another Sara Rall Guest Post, Sara for President!  I'm lucky to have such a generous contributor!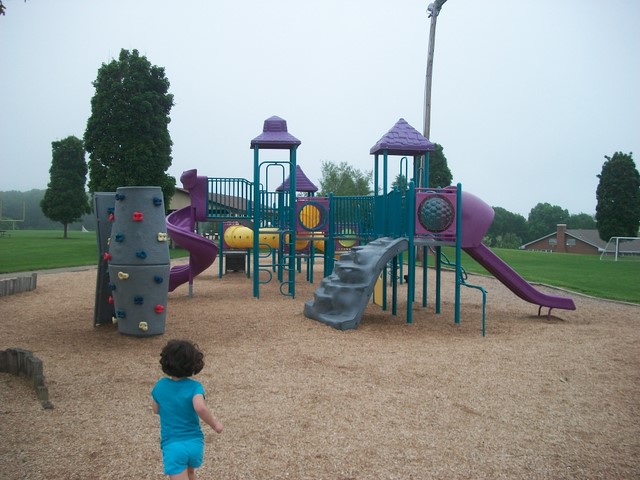 Rockytop Playground, in Rock Spring Park, by the intersection of Schooley's Mountain Rd. and East Springtown Rd. in the Schooley's Mountain section of Washington Twp. (Morris Co.) is and excellent, sunny playground with lots of
interesting equipment and a big sandbox.
The section for younger children is closest to the parking lot. It is well fenced and features a big dino-themed play structure with a pint-sized "rock wall" climber, a tunnel with a clear top, and a wiggly slide. Shredded rubber mulch.
Next is a giant sand box with three big digger toys and lots of other sand toys as well.
In the center is a pavilion with picnic tables, next to a bench swing large enough for adults and a rope climbing wall.
Then comes the section for older kids with tunnels, slides, a free standing "rock wall" and a big tire swing. This section has woodchip mulch.
There is another pavilion beyond this and very nice bathrooms. Everything is surrounded by huge playing fields. And is far from the road, but there is very little shade. All in all an excellent playground. See below for all the pics!