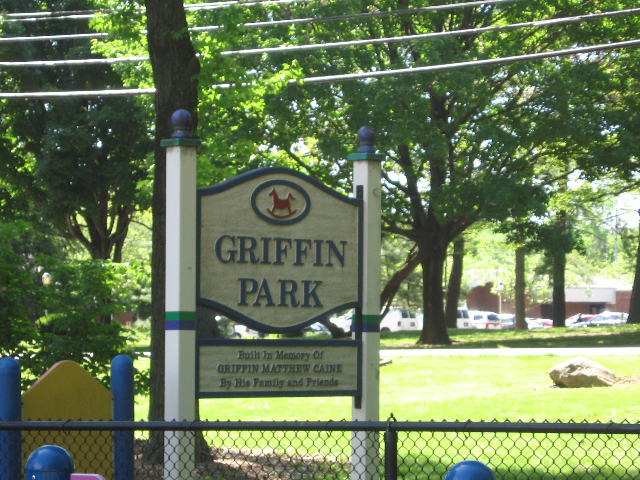 From Victoria H.
Griffin Park Tenafly –

It has two areas. One area for bigger kids and another area for smaller kids which is enclosed. It is also shaded. The climbing equipment in the smaller area is just the right height for littler kids, there is also a little store front and some baby swings. There also are bathrooms nearby. And a parking lot.
So here is a link to other parks in Tenafly–
ADDRESS: Riveredge Rd & Jefferson Ave
DIRECTIONS: NJ-4 E to Hackensack Ave towards River Edge. Keep left at the fork to go on Hackensack Ave. Hackensack Ave becomes New Bridge Rd. Turn right onto Roemer Ave for approximately 1 ½ mile. Turn left onto S Washington Ave. Turn right onto E Main St. After about 1 mile E Main St turns into Riveredge Rd.
DESCRIPTION: Two large playgrounds within the grounds of Roosevelt Common's. There is a fenced in toddler area with a large purple and green structure along with a storefront and dinosaur bouncer. The area is in full shade and is mulched. The older area is also mulched but is not fenced in and has more sun. There is an independent climbing structure in the older area.
PARKING: Large paved lot close to playground
PICNICKING: Scattered picnic tables throughout area.
HANDICAP: There is one blue handicap swing. The rest of the playground area is not handicap accessible.
CLIMBING: Independent climbing section, corkscrew poles, firemen poles, wiggle pole, bridges,
PLAYTHINGS: Looking glass, steering wheels, storefront, animal matching game
SLIDES: Two corkscrew, two double
SPORTS: Baseball, tennis, soccer, football
SWINGS: Three toddler, one wheelchair
WALKING PATHS: Paved around the park
WATER: Nice pond with center fountain
OTHER COOL STUFF: Roosevelt Common has a nice paved path that allows you to walk through the complex. There is a water area with a center fountain and some nicely shaded areas to sit and relax
MAKE A DAY OF IT: Visit the Tenafly Diner off of Riveredge Rd. The diner has great food for a quick meal after a trip to the playground. Tenafly Gourmet Market is also near the diner.