With October here, pumpkin patches, hayrides and all sorts of fall fun, we thought it would be a good idea to put together a Fall Fun post.  Yes, I know there are so much information out there already, but thought with all this info overload, let's find out what NJ Playground friends and fans think.  Please note that we love feedback, so if you have something to share, comment below.
First, a little from me, I visited Parker Gardens in Scotch Plains, and Williams Nursery in Cranford. Both were excellent, and I shared my experiences in full detail for the Patch (Scotch Plains version).  The highlight for me was the hay "sledding" .  Gina, my fellow Springfield NJ mom friend, really likes what Williams Nursery has done this year to boost their decorations in the hay ride, can't wait to check it out for this fall.
Other mentions from friends and fans on Fall fun:
Sun High Orchards in Canfield Road, in Randolph, and I agree.  We haven't gone this year, but the pumpkin patch was great from what I remember.  Has a little zoo, picnic area.  The nice part of this one, is that it is open 7 days a week, check with them on the availability of special activities.
Here's some information on their tours from their site
And some pictures from our fan page from NJ pumpkin patches!
If you are looking for "less commercial and not as crowded"  I got a couple rec's in the north area:
Ideal Farm and Garden in Lafayette (right across from Chatterbox on Rt. 15) from 2 friends, one which appreciate it as a "not too commercial" but lots of fun.
Lentinis Produce- pay for the maze, but the hayride and pumpkin are free according to an FB friend. Â  I think the haunted one you have to pay for though.
Turkey Farm in East Windsor- Leora W. my web guru, and author of Here in HP blog, shared this link of Lee Turkey Farm and it's cool that they have a variety of tours for different ages.
From The Hungry Librarian of "Readitcookit" : "The Long Valley Sheepherding company in Morris county is amazing. They do tours of the barns and creamer."  Thanks JT! I also was told that I have something in common with the owner, we both went to Stevens Institute of Technology, and now do completely different things..
VonThun Farms in Monmouth Junction– Open everyday until October 31, they have a boatload of activities available only on weekends– go-cart looking bike or trike race, moon bounce, rubber duck races, and 5 holes of mini-mini golf.
My 2 boys loved the Noah's Ark Playground at Stony Hill Farm, in Chester.  They also have tons of mazes too.. not just their 10-acre corn maze.
Melick's Town Farm which is located in Oldwick, Califon and Bridgewater has pick your own, and hayrides.
Alstedes is recommended by alot of people I know, but I find it to be sooooo crowded on the weekends, but weekdays may be a better bet.  there is one that is close by, not Stony Hill, but one that had a wooden train that the kids enjoyed climbing around, can't remember where it is, if anyone knows, tell me!
Another big one is Heaven Hill, in Vernon, wow!  I haven't visited this one yet.
UPDATE- 10/14- FB post from Jennifer- Race Farms in Blairstown NJ. Went apple picking it was great. Also have pumpkins and other items to pick. Cider and of course cider doughnuts! YUM
Corn Maze- Train Ride and Hayride all in one-  Ringoes, NJ.  This one was suggested by one of our NJ Playground facebook fans, Anna.  The kids loved it! The staff was very warm and friendly, it was a nice group.
Here's my little collage-  This place is not crowded!  and you kind of wonder if you are going the right way, but there it is, right by the train station.
If you have train fans, make sure you catch a ride on the caboose either part of the round trip.  We didn't do the whole maze, due to the attitude and lack of stroller for 18m old, but they did get enough holes punched in their card to get a stuffed pirate bear and some other stuffed animal.  We were a bit late for another event, so we missed out on the hayride, but Anna made it, and here's her pumpkin patch pic 🙂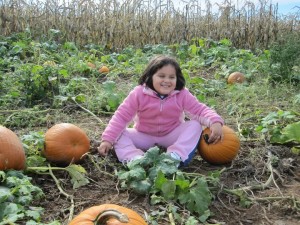 For more links on Pumpkin Patches in NJ, visit this great resource that is full of info and incorporates feedback into their posts.  Also want to include your pic in our post?  Post them on our Facebook Fan Page, and we'll add it!  Thanks to Sara, Anna, Shannon, Jeanette, Kelly, Gina, Lea, Leora and Beth for their feedback!