199 Challenger Road, Ridgefield Park, NJ. Overpeck County Park was just redone, and has been the buzz of our facebook fan page for over a month now. Not only does it have climbing nets galore, but it has so many spinners, and a rubbery chip/mulch landing. I made the mistake of first going to the Leonia section of Overpeck that has a playground as well, but this one is clearly the BIG ONE.

Also a great gazebo to get together when it isn't full. Bathrooms are in a facility by the soccer field.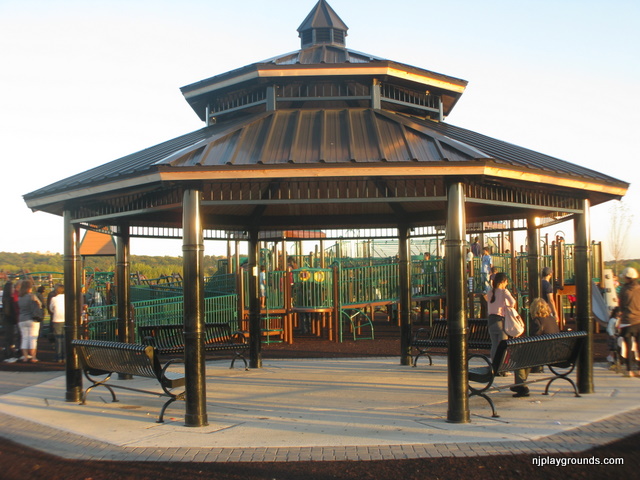 My kids loved it here, I haven't seen so much equipment, it really was hard dragging them back home. Nearby this park is the AMC Loews Theater, so if you want to catch a movie and then go for a park playdate, it's ideal!
From their website:
"The park, which is ADA accessible, includes the following amenities:
Children's playground
Five miles of paths for pedestrian and bicycle use
Observation deck/ nature overlook
Canoe/kayak launch (car top only)
Dock
3,000-seat amphitheater
40-acre open field
One softball field
One baseball field
Two artificial turf soccer fields
Six tennis courts
Three comfort stations
Two concession areas
Also, here are some more pictures! Click to browse..