Guest Post by Sara Rall-
Snyder Ave. Park, just north of the train tracks (and a few blocks south of Springfield Ave.) on Snyder Ave. in Berkeley Heights, Union Co. just opened in October 2010.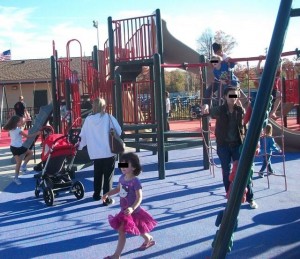 The playground is set back from the road and completely surrounded by a fence (with 2 gates). The surface is rubber matting, so no wood chips to get in little shoes. There are two main play structures, one standard one for younger children and one for larger with several slides, several kinds of climbing walls, a rope wall, monkey bars, suspended "mushrooms", and two kinds of spinners: one standing and one hanging.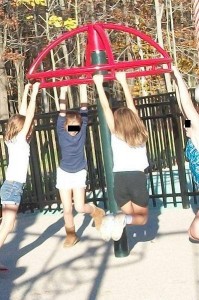 There are several swings including infant and handicapped. There's a balance beam as well.
The playground also includes a small football-themed spray ground, fenced from the main playground which was very popular this fall for wrestling and running around in, despite the lack of water.
There are brand-new beautiful bathrooms, a perfectly smooth blacktop walking/biking path, lighted ball fields, and the train comes by every so often (visible from the playground but not next to it).
The only drawback is a lack of shade due to its brand-new-ness. Come in the evening and enjoy.