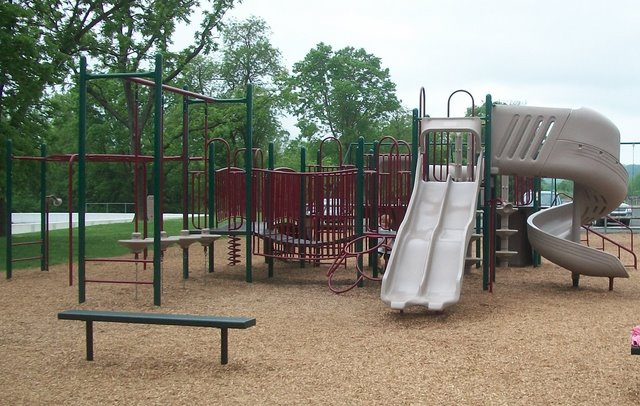 Editor's Note- Happy Halloween! Located 2 miles from Shades of Death Road, Sara found a great spot to play 🙂
Guest Post by Sara Rall-
Green Acres/Field of Dreams playground, about half way down Cemetery Rd. off Route 46 in the Great Meadows section of Independence Twp. (Warren County), is a big, new playground surrounded by every kind of ball field imaginable.
They have two main play structures. The big one has mushroom shaped climbers and lots of slides, and the smaller one has a cool gear toy. There is also a free standing plastic climber, a 3 person bouncy seesaw, and a covered
sandbox.
Bathrooms are nearby and unlocked next to a covered picnic pavilion. There is a roller hockey court right by the playground as well as baseball, basketball, soccer, you name it. Not a whole lot of shade, but there are some big trees at the side of the playground. The park itself is huge.
About 2 miles away, off Hope Rd., which is off Route 46, is Shades of Death Rd. Weird NJ has a little description on this perfect Halloween stop 🙂 Worth driving on if you have kids the right age to consider it worth bragging about. (Not really much to see there but swampy fields and woods.)