From "The Playground Guide" Bergen County Edition:
Midland Ave, Garfield, NJ
DIRECTIONS: I-80 E to exit 61 Garfield/Elmwood Park. Make a right onto River Rd. Travel approximately 2 ½ miles and make a left onto Monroe St. Take Monroe St to Midland Ave and make a right onto Midland Ave.
DESCRIPTION: Beautiful county park next to a lake with a center fountain. The play area is large with a nicely paved path that leads the playground and around the lake area. There are two large structures for each age group. The big kids section is very tall with lots of steps and steep slides. There are plenty of bridges and walkways to maneuver. The little kid's area is a small scale big kid's area. It has mushroom caps, bridges, and smaller stepping bridges.
PARKING: Street only.
PICNICKING: There are scatter picnic tables throughout the area. There are also some under the gazebos that you can find throughout the park.
CLIMBING: Corkscrew poles, rock walls, stepping bridges, wiggle poles, ladders, triangular climbers, monkey bars, rings, mushroom caps, steering wheel suspended monkey bars
PLAYTHINGS: Looking glass, mirrors
SLIDES: One corkscrew, one tube, one double, two toddler
SPORTS: Ice skating during winter months
SWINGS: Four full size, two toddler, one tire
WALKING PATHS: Paved around the park
WATER: Nice pond with center fountain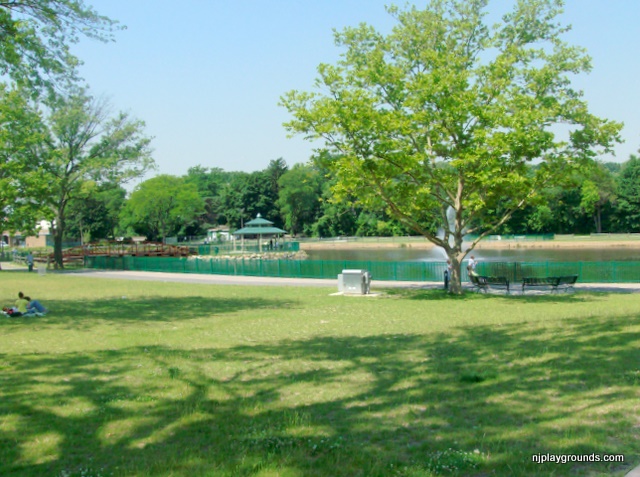 OTHER COOL STUFF: There is a cannon at the entrance of the park that the kids can climb on.
MAKE A DAY OF IT: Stop by Dunkin Donuts across the street for an Iced Coffee and a donut on your way to a morning at the playground.