Finch Park Creative Playground is located at 205 Church St, in Ramsey, NJ.
DIRECTIONS: Route 17 N to the Spring St/Grant St exit. Make a right onto Spring St. After you make the right, stay slight right to remain on Spring St. Make a left onto N Island Ave and then a right onto Church St. Park entrance is at the Ramsey Senior Center on your right.
DESCRIPTION: Beautiful new playground with very cool equipment. There are several different areas for the kids to play. There is a very cool sand box area, a toddler area that looks like a pirate ship, and a larger playground that looks like a castle. The ice cream man visits this playground often.
PARKING: Large paved lot close to playground
PICNICKING: Picnic tables are scattered throughout area
HANDICAP: There is a paved walkway into the play area and two handicap swings. Mulch ground cover will make it hard to maneuver but there are many things to do that are low to the ground for easy accessibility. There is also a ramp to the built in sand box area.
CLIMBING: Bars, rings, rappeler, parallel bars, stairs, chains, fireman's pole, mushroom caps
PLAYTHINGS: Tic-tac-toe, steering wheels, prints underneath, play house, puzzles, rock walls, very cool twisty tunnels
SANDBOX: Large built in area that is partially fenced with lots of toys
SLIDES: Two chute, one double, two bumps, one corkscrew
SPORTS: Baseball fields, basketball courts
SWINGS: Four full size, two toddler, two handicap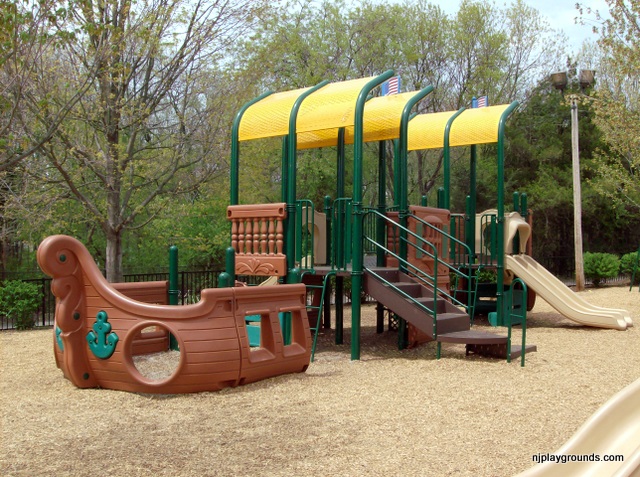 OTHER COOL STUFF: Toddler area has very cute train.
MAKE A DAY OF IT: Just minutes from downtown Ramsey with plenty of cool places to go. For lunch try Pietro's Pizza on the corner of Main St and North Central Ave.