From "The Playground Guide" Bergen County Edition:
Clark Field is located on Willow St & Cleveland Ave in Washington Twp. NJ.
DIRECTIONS: Garden State Pkwy N to exit 168 Washington/Westwood/HoHoKus. Bear right off exit onto Washington Ave. Proceed on Washington Ave through one traffic light and make a right onto Cleveland Ave. Playground is one block up on the left.
DESCRIPTION: Brand new huge playground in a nice neighborhood. Play area is completely shaded under huge trees. The equipment is designed for all ages in one structure that divides into two sections. The younger section is a very cool pirate ship and the older area has some very tall slides. There are tons of swings and plenty of room to move around.
PARKING: Plenty of street parking next to the playground area
PICNICKING: A few picnic tables and a concession stand that is open during baseball season
HANDICAP: The playground is handicap accessible. The structure has a ramp for easy accessibility and the mulch area is enclosed with rubber barriers allowing a dirt surface around the perimeter making it a little easier to maneuver a wheelchair.
CLIMBING: Four independent repeller bars, one corkscrew pole, climbing wall, monkey bars
PLAYTHINGS: Tic-tac-toe, mirrors, sign language messages on steps, steering wheels, pirate ship with maps and seats, fire truck with puzzles inside
SLIDES: One corkscrew, two chutes, one toddler
SPORTS: Baseball field, one basketball court
SWINGS: Four full size, four toddler, one tire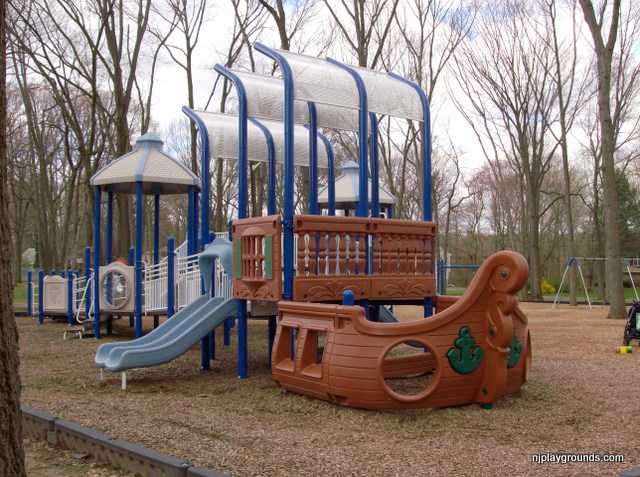 OTHER COOL STUFF: Hippo and dinosaur for climbing and tunneling through, fire truck and rock climbing wall makes it nice for the kids to be able to spread out and try new things
MAKE A DAY OF IT: Visit the local shopping center on Pascack Rd for Dairy Queen or to see a matinee movie at Clearview Cinemas.