From "The Playground Guide"- Sussex/Warren County Edition:
C.O. Johnson Park is located on 117 Roseville Rd, in Byram Township, NJ.
DIRECTIONS: Take Rte 206 into Byram. Turn onto Tamarack Rd (can only go one direction) and drive 1.5 miles to the end. Turn left onto Roseville Rd, towards Andover. Soccer and baseball fields with a small parking lot visible on the right after ¼ mile, but keep going to the next park entrance another ¼ mile down to be closest to the playground. Once in the park, make the first right into the parking area. Playground is up the hill from parking, but handicap parking is available up the hill right next to the playground.
DESCRIPTION: Two wooden play structures with colorful play features and a unique kid (or parent!) powered train ride from platform to platform. Snack bar and bathrooms may be open during ball games. Shaded benches scattered throughout.
PARKING: Medium by playground, more available in other parts of the park
HANDICAP: Handicap entrance to the playground area, free-standing abacus toy is wheelchair accessible
CLIMBING: Bars, rings, two corkscrew poles, stairs, steps, rope bridge, rope ladder, chain bridge
PLAYTHINGS: Looking glass, tunnels, wooden clubhouse, abacus, colorful turning cubes
SLIDES: Triple bump, double standard, one corkscrew
SPORTS: Four ball fields, one football field, three soccer fields, two full basketball courts, three tennis courts
SWINGS: Two toddler, four full size
WALKING PATHS: Small walking path behind the back soccer field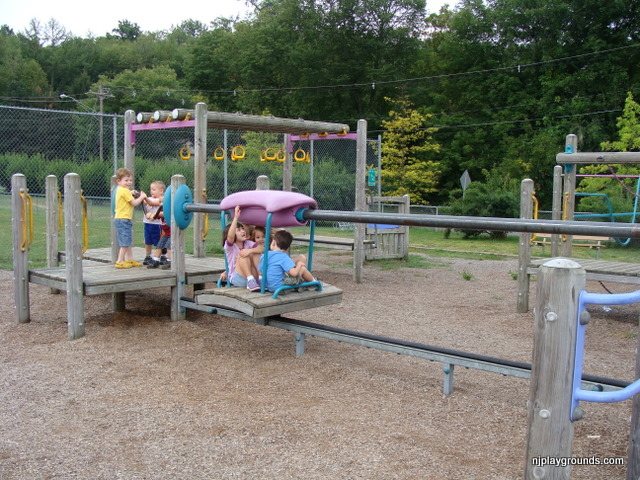 OTHER COOL STUFF: Skateboard park that can be used with bicycles when no one is skating, bike rack, kid-powered rail train ride
MAKE A DAY OF IT: Pick up a snack at Cranberry Market and Deli at the corner of 206 and Tamarack Rd, because once you get to this playground the kids aren't going to want to leave!