Morris Plains Community Park is located on 51 Jim Fear Dr in Morris Plains, NJ.
Directions: Take 287 to Route 10 and exit towards Whippany/Dover.  Turn onto Littleton Drive (Route 202) on same side as the Super Stop & Shop (left if traveling West.)  Turn left at the light onto Malapardis Road and then right onto Jim Fear Drive.  End at the Community Center and Parks.
This playground intended for 5-12 year olds has recycled rubber ground cover, lots of room, fields and things to do.  The sandbox comes equipped with toys and the whole area is well shaded with good parking.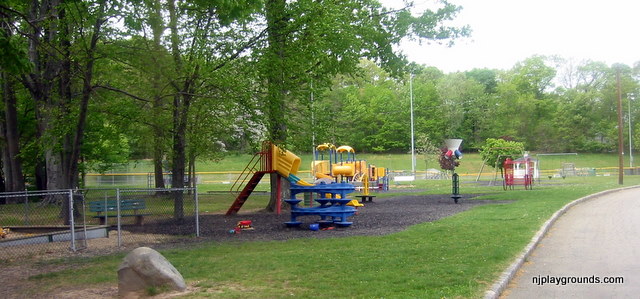 Parking: Large
Picnicking: Big gazebo next to playground area with tons of tables, tables also in wooded area near pond
Climbing: Three stand-alone climbing structures, ropes, bars and handles
Merry-go-round: Two single-person standing spinners
Playthings: Dinosaur and alphabet puzzles, large metal carriage
Sandbox: Large with toys – cars and trucks mainly
Slides: One open cork-screw slides, one tube and one stand-alone bump slide
Sports: Half-court basketball with four hoops, ball fields and tennis courts are lit, horseshoe court (BYOS) and volleyball
Swings: Four toddler, Two full size
Water:Â  Large pond adjacent to playground and community pool in same complex
Other Cool Stuff: Funnel ball, balance beam
Make a Day of It
Have lunch at Chevy's Mexican, Visit Barnes & Noble (call ahead for kid programs) or go for a haircut at Pro Haircutters.