Lewis Morris Park is located on 270 Mendham Rd in Morris Township, NJ.
Directions
From I-287 take exit 36 which is the CR510/Laffayette Ave exit.  Stay straight to go under the train trestle toward Morris Ave.  Turn right at Morris and go through the light and at top of the hill make a right onto East Park Pl and then a left at the next light onto N Park Pl.  Take a right onto Washington St which is CR 510/NJ 24 and look for the entrance to Lewis Morris approximately 2 miles outside of Morristown.
Description
Lewis Morris Park is a total of 1154 acres, which includes excellent mountain bike trails, a lake recreation area, Parcourse Exercise Circuit, a group camping area and six distinct picnic areas. The Playground was donated by local Saturn dealerships and features newer equipment.  It is clean, nicely mulched, and well shaded.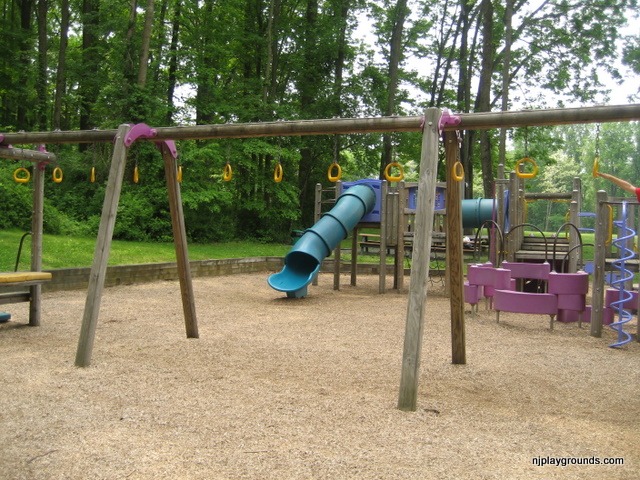 Parking: Many lots throughout the park, dirt parking lot adjacent to play area
Picnicking: Six picnic areas in the park, a few tables near the playground, port-a-johns next to the playground, drinking fountain and indoor bathrooms elsewhere in the park
Climbing: Plenty of bars, fireman's pole, rings, log bridge, crescent shaped steps, tunnel of bars
Playthings: Tic-tac-toe, rotating color blocks, benches and molded handprints
Sandbox: Very small
Slides: One tube, three straight
Sports: Three ball fields, swimming, boating
Walking Paths: Miles and miles of paved and un-paved walking paths
Water: A lake in the park with swimming and boating (paddle and row-boats) and a small beach
Other Cool Stuff: Dog park (unleashed) next to the playground, equestrian trails, reservable meeting rooms, aParcourse Exercise Circuit and a group camping area
Make a Day of It
It's very easy to spend an entire day in the park or leave and visit Wightman Farms which is especially great in the fall