Freedom Park is located on Millbrook Ave, in Randolph, NJ.
Description
A large and busy sports facility with a great playground at its entrance.  The playground has some really unique playthings.  It's a great spot for a weekday play-date with a very large picnicking gazebo just off the parking lot. Very busy during the weekends.
Directions
From Route 10W turn left onto Millbrook Ave and the park is ½ mile ahead on your left.
Parking: Large, but can be very crowded!
Picnicking: Big gazebo with lots of tables, more tables by playground
Climbing: Handle bars, ladders, repellers, mushroom caps, bridges, circle of rings, wall, suspended step, leaf shaped steps, balance beam
Playthings: Steering wheels, music center with bells and oversized drums, call boxes, mirrors,
Seesaws: Duck bouncy
Slides: Eight chute, one corkscrew, one tube
Sports: Seven fields, all lit and used for football, lacrosse and baseball/softball, beach volleyball next to the playground
Swings: Two full size, two toddler
Walking Paths: Walking and biking trails
Other Cool Stuff: Connects to Brundage Park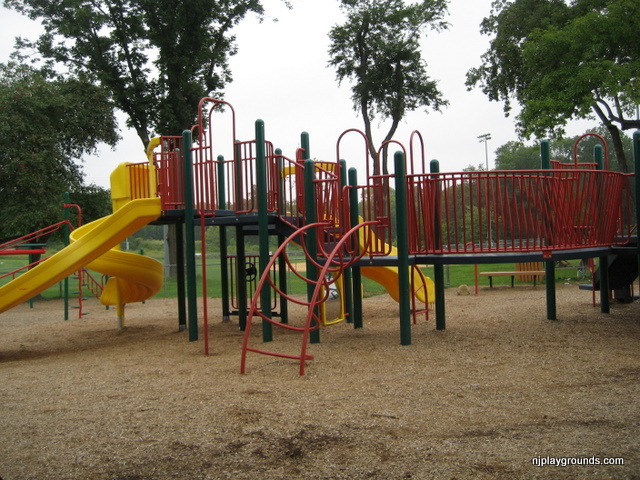 Make a Day of It
Take a swing at the Clubhouse Golf Center and Grille, dine at the Black River Barn & Restaurant or shop for the best in everything for biking at Marty's Reliable Cycle.  Also check out the town dog park or Artworks Studio just down the street by town hall.
For more playgrounds in Randolph, click here. If you are looking for a five star playground in Randolph, check out Brundage Park!
Want to check out the Biggest and Best, click here for our map and links!