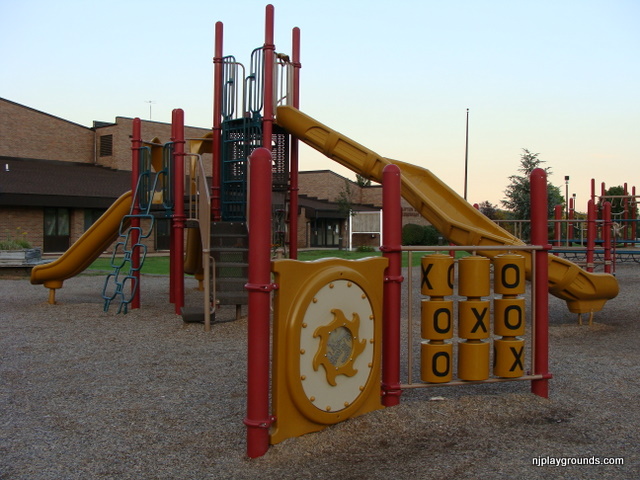 Clifton E. Lawrence School is located on 31 Ryan Rd, Wantage, NJ in Sussex County.
DESCRIPTION: The largest, most diverse school playground we've encountered in Sussex and Warren County. The landscape is dotted with a wide variety of play structures and toys, and includes a fenced-in toddler area.
DIRECTIONS: From NJ-15 N take the CR-517 Ramp just north of Sparta and turn right onto CR-517. Follow for 5 miles and turn left onto NJ-23/CR-517. Note, the school is right off of Rte 23, but the road turns a few times! Follow NJ-23 for 8 miles and then turn left onto NJ 23/Loomis Ave/CR-639. Make a quick right onto Mill St/NJ-23 and after 1 ½ miles turn right onto Ryan Rd.
PARKING: Large
PICNICKING: Two picnic tables
HANDICAP: Two handicap swings, two chair swings
CLIMBING: Bars, rings, parallel bars, corkscrew pole, jungle gyms, stairs, steps, chains, fireman's pole
PLAYTHINGS: Tic tac toe, call boxes, racing car
SEESAWS: Four-seater, chick and horse bouncies
SLIDES: Two corkscrew, four chute
SPORTS: One basketball half-court
SWINGS: Eight full size, two chair, two handicap
OTHER COOL STUFF: Digger with rocks
Looking for more playgrounds in Sussex County? Check out our other listings.