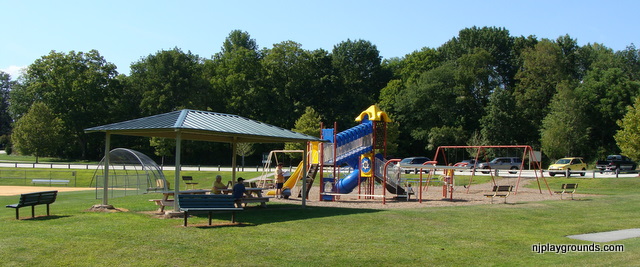 Woodbourne Park is located on Corner of Berry Rd & Sherman Ridge Rd in Wantage NJ.
DESCRIPTION: A sprawling, full-sun playground with a variety of sports fields, playthings, and a walking path.
DIRECTIONS: Take Rte 15 seven miles north of Sparta and then follow CR-565/Ross Corner-Sussex Rd to the right for another 4.8 miles. Make a left onto Beemer Church Rd/CR-637, go 3/10 of a mile, then turn right onto Pidgeon Hill Rd. After three miles, turn left onto Berry Rd. Follow signs for the park entrance.
PICNICKING: Six picnic tables
CLIMBING: Stairs, steps
PLAYTHINGS: Storefront, monocular, balance beam
SLIDES: One toddler, one tube, one covered corkscrew
SPORTS: Two softball fields, three baseball fields, one full basketball court
SWINGS: Two toddler, four full size
WALKING PATHS: No-bike walking path, partly shaded, in rear
OTHER COOL STUFF: Two bouncy platforms, shuffleboard, sand volleyball, football, port-a-johns
MAKE A DAY OF IT: Check out Wantage Dog park less than a mile down the road from the park entrance if you've got four-footed friends, or cool off at the Branchville Sussex Library.
For more playgrounds in Wantage, click here. For more playgrounds in Sussex County, check these listings!