Morris Township Children's Playground, Knollwood Dr and Khadena Dr, Morris Township, NJ
Nicely spread out, shaded, neighborhood park. The equipment is scattered throughout a wooded grove. Grass and mulch ground cover. Great if you have toddlers and kids up to age 12 – challenges for everyone!
Route 287 to Lafayette Ave, exit 36B. Slight right onto Lafayette, under train trestle, right onto Morris St. Through light, up hill, turn Right onto East Park Pl and then go half-way around the center of town and make a right onto Washington St which is also CR-510 / NJ-24. Continue on through town, past Burnham Pond and fields on your left and then make a right onto Kahdena. Go to the bottom of the hill and you will see the playground on your right.
Parking: Street only
Picnicking: A couple tables and benches, not a great spot for picnics
Climbing: Very steep wall for older kids, bars, poles, metal hexagon dome
Merry-go-round: Standing
Playthings: Tigers mouth, standing puzzles – one with animals, one with emergency symbols
Seesaws: Five bouncing seats, cute retro animals
Slides: One corkscrew, two bump, two straight slides on a play area that is very high off the ground. The end of slide is three feet or more from the earth! One toddler with toad theme
Sports: Four lit hard-tru tennis courts across the street along with town football field, basketball is a backboard on a very small piece of pavement, town pool across the street
Swings: Two toddler, two adult
Walking Paths: Patriots path across the street and behind the tennis courts and pool, two to three miles of paved walking paths in this area
Other Cool Stuff: Funnel ball, a small metal tower with ladder entry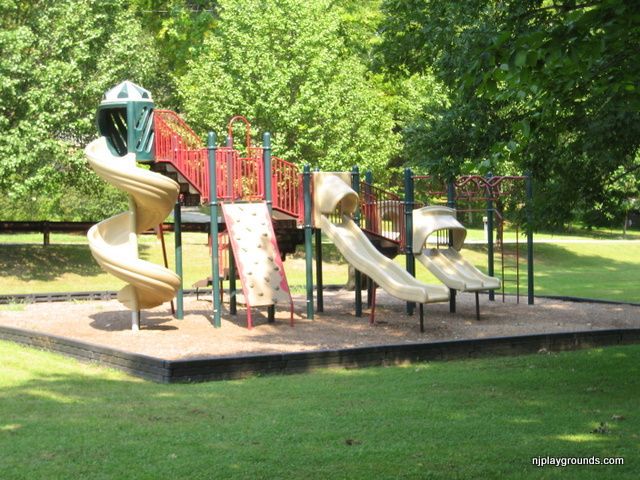 Make a Day of It
Visit Foster Fields natural farms first or after your trip to the playground and fit in a game of Tennis or a bike ride on Patriots Path.