Editor's Note:  We've recently added a new classification for SSEQ (Small Safe Enclosed Quiet) playgrounds and this one fits the bill according to one of our fans.  Thanks to all the fans and readers for their input, we truly appreciate it and so do the parents looking for these great gems!  Have a comment for this park?  Leave one below the post
Bee Meadow Park is located on Reynolds Ave & Pond Rd, in Whippany(Hanover Twp) NJ.  The formal name for this park is Brickyard Field at Bee Meadow Park.
Nicely designed toddler and 5-12 year old play areas side by side. Lots of great climbing equipment. Rubber ground cover in the toddler area. Just next door is a yard with tons of chickens and roosters so be prepared for some noisy company!
Directions: Route 287 to Route 10 East (Whippany). Just before the 4th light, take the jug handle r ight before the Whippany Diner to cross Route 10. Now you are on Troy Hills Rd. Take left at first light onto Highland. At end of Highland make a right onto Reynolds Ave. Bee Meadow Pond is one half mile ahead on the left. Brickyard Field is just behind the pond.
Parking: Large lot
Picnicking: A small standing only gazebo, several picnic tables just outside the playground fences
Climbing: Wooden climbing structures, repeller, ropes, ramps, rope wall, parallel bars, monkey bars, tunnel with ladder overhead
Playthings: Looking glass, play house, a gondola type ride (you turn a crank to make a suspended car carrying its passengers move from platform to platform)
Seesaws: Turtle and bunny bouncies, motorcycle with side-car, four-seater
Slides: Three toddler, one corkscrew, three bump
Sports: Football
Swings: Two toddler, two full size, one tire
Walking Paths: Paved paths around the park
Water: Large pond with seating around it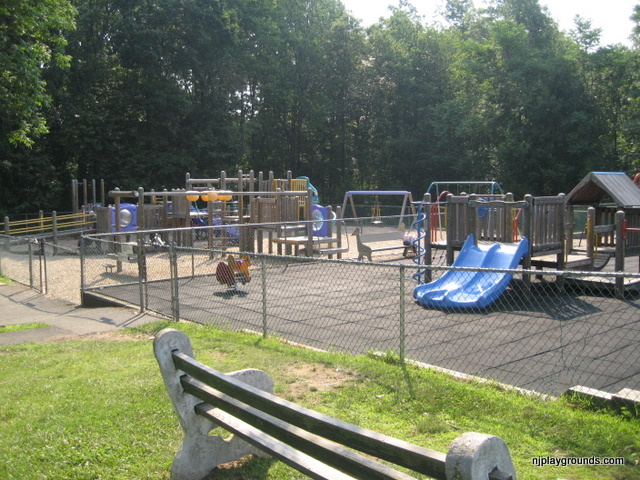 Make a Day of It
Pick up lunch at Reynolds Deli & Catering or if you don't want to eat outside, go back to Route 10 for lots of choices including the Original Pancake House or the Brookside Diner.
Looking for something bigger?  Check out our Biggest and Best Playgrounds or browse all Morris County Playgrounds! (make sure you click on the bottom for older entries when browsing county playgrounds)