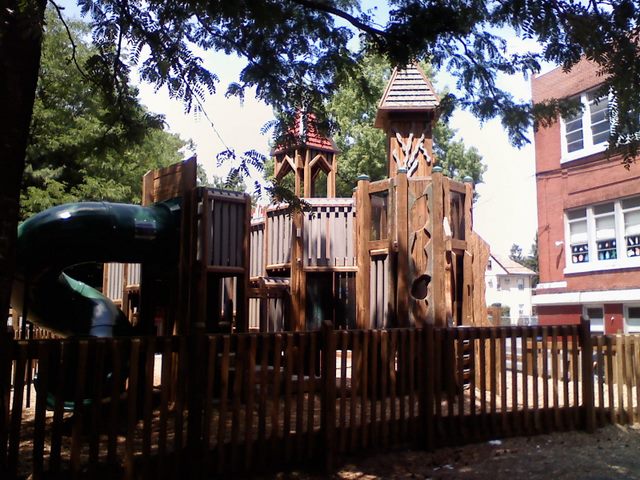 Today is Open Cockpit Day at Teterboro Airport from 10-4pm. (From Mirabest.com :
Explore planes, helicopters and a fire truck. Aviation Hall of Fame & Museum, Teterboro. Adults $7/Children $5. )
I grew up in Hasbrouck Heights the next town over, and thought I'd share some ideas for things to do that aren't too far away. First of all, the IHOP that is on 111 Route 17 South that is in Hasbrouck Heights has a cool miniature train that rides along the ceiling throughout the restaurant, it is definitely a highlight for my boys.
5 minutes away- For a small fenced in park, you can check out the one that is in the Athletic field in Hasbrouck Heights, with rubber mulch.
10 minutes away- There is also a small one in Woodridge along Valley Blvd, that we haven't posted yet, but will soon! It is completely fenced. Information below is from theplaygroundguide.com
ADDRESS: Valley Blvd & Highland, Woodridge, NJ
DIRECTIONS: From I-80E take exit 64 toward US-46E/Hasbrouck Heights. Stay on 46-E for 2 ½ miles and then take the Wood-ridge/Moonachie ramp and turn right onto Moonachie Ave. Turn right again on Hackensack and then left onto Highland Ave. Proceed on Highland until you hit Valley Blvd and then turn right and you can park right in front of the playground
DESCRIPTION: Fenced in playground with two gates making it hard for anyone to escape! Equipment appropriate for toddlers and older children. Some shade, slightly dated equipment.
PARKING: Street only
PICNICKING: Newer tables and benches along the sides of the playground and inside the fencing
CLIMBING: Monkey bars, stairs, helix shaped climbing poles, tubes, leaf steps, drawbridge
PLAYTHINGS: Tic-tac-toe, steering wheel
SLIDES: Four toddler, two tube and two straight
SWINGS: Fourt toddler, three full-size
WALKING PATHS: Small gazebo and walking paths in park adjacent to the playground
OTHER COOL STUFF: Bike rack
MAKE A DAY OF IT: Visit Emile Romagna Pizzeria right across the street on Valley Blvd.
12 minutes away- If you want to travel to Hackensack that isn't too far, there is Fairmount Playground, (pictured above) a great school playground that has a castle theme. It is a hidden jewel, and is a lot less crowded than the amazing Van Saun Park.
15 minutes away from Teterboro- Van Saun is our favorite, and the Bergen County website says that train/pony rides/Carousel is open from April-October!!!
Woohoo! It is Spring!!!