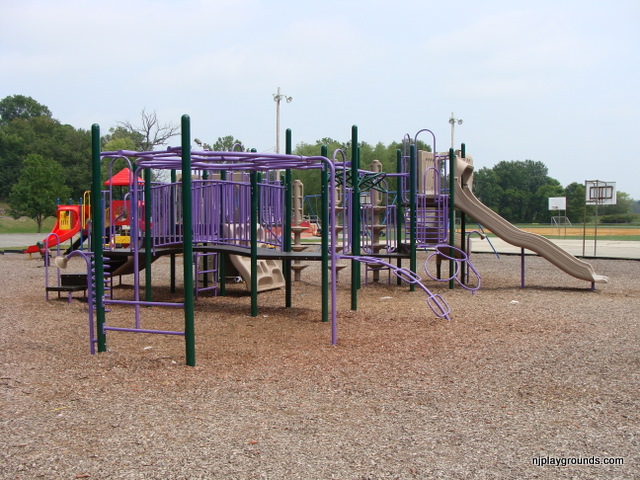 Editor's Note: Another great park by Amy's Playground Guide from Sussex/Warren counties!  I also wanted to acknowledge, Thomas Russo, the Town Manager of Newton, who I've been lucky to meet at a NJ Social Media conference awhile back.  If you take a look at the Newton Town Website, you can immediately tell that they keep things current and effectively use their facebook and twitter pages.  If you have any feedback about this park, please feel free to leave a comment below!
Memory Park is located near 99 Moran St in Newton, NJ.  It is a spacious playground with brightly colored equipment, fenced in on two sides.
DIRECTIONS:Â Â  Take Rte 206N into Newton, where it becomes Main St. Make a right at the second light onto Spring St, then a quick left onto Moran. Park is at the end of the street on the right.
PARKING:Â Â  Large
PICNICKING:Â Â  Separate picnic area with four grills, past the ball field
HANDICAP:Â Â  Two half-panel games with a wheelchair ramp
CLIMBING:   Bars, walls, stairs, steps, fireman's pole, tree climbers, cool circular monkey bars, satellite climbers
PLAYTHINGS:Â Â  Steering wheel, call boxes, gear puzzles, great race puzzle, storefront
SEESAWS:Â Â  Two two-seaters
SLIDES:Â Â  Three toddler, one corkscrew, four standard
SPORTS:Â Â  Three ball fields, two soccer fields, two full basketball courts
SWINGS: Six toddler, six full size
OTHER COOL STUFF:   One duck bouncie, one turtle bouncie, old 'par' fitness course around the park, some stations removed
MAKE A DAY OF IT:   Two blocks up Moran St from the park is Spring St, where you can spend an afternoon exploring with or without the kids! Recently designated as part of the Main Street New Jersey program, Spring St features a number of local businesses and eateries. On Main St you will find An Open Book bookseller and internet café – check ahead for children's programs. Stop by the Springboard Shoppes to visit Mother Moon Baby Boutique which is full of eco-friendly products and gifts and hand-painted furniture.  In the same center, you can explore the unique, colorful fashions at Inner Design by Robin Lennon.