Muriel Helpner Park is located Approx 300 Diamond Spring Rd in Denville, NJ
Small but fun fenced in playground right next to a very scenic pond with fountain, walking paths, foot bridge and in May/June lily pads in full bloom. The playground has new equipment, some shade and astro-turf ground cover!
From I-80W take exit 39 towards Route 53/Denville. Take the Route 53 ramp and turn right onto East Main Street. At the light, stay straight to go onto Diamond Spring Road. At the next light, bear left, again to stay on Diamond Spring Road. Muriel Hepner Park will be approx one-half mile ahead on your left.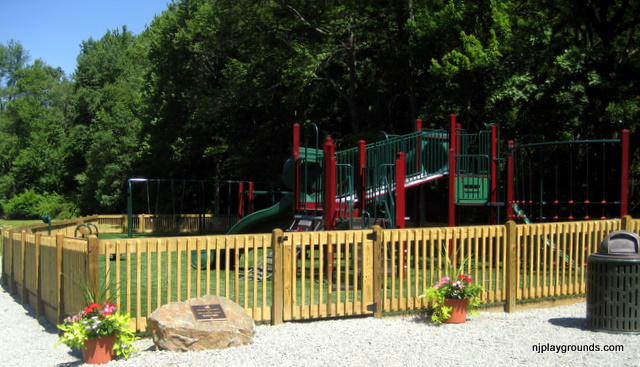 Parking: Small gravel lot
Climbing: Rope wall, repeller, parallel bars
Playthings: Balance beam, call boxes (that really work!) and whimsical prints underneath the play equipment
Seesaws: One four-seater
Slides: One tube, one half-pipe
Swings: Two full size, two toddler
Walking Paths: Dirt walking paths around the pond and in through the woods
Water: Beautiful pond covered in lily pads, active duck family, fountains, and a foot bridge
Make a Day of It
Stop at Atillios restaurant which is very family-friendly (they sometimes give the kids pizza dough to play with!) and also enjoy some quiet time at the Denville Museum or Library which are both right down the street. Finish up with a treat from the Viking Bakery or Miami Rice Pudding Company in downtown Denville.