Editor's Note:  Lara from TwiceBlessedLife commented that she really enjoyed how in Japan they have barriers in front of the swings so that the kids don't run up to them. 
Poppy, one of our FB fans, noted that Boonton has this! Thanks to our recent merge of the Playground Guide, we are able to start posting playgrounds from their archives.  so here it is, Pepe Field!  (All pictures are on the bottom of the post)
Pepe Field is located on Oak  & Wooton, Boonton NJ.  It is a medium size playground ideal for toddlers and kids up to 5 years. 
Rubber ground cover, combination of metal and plastic on the play structures. Fairly clean in a residential area.  Not much parking or shade.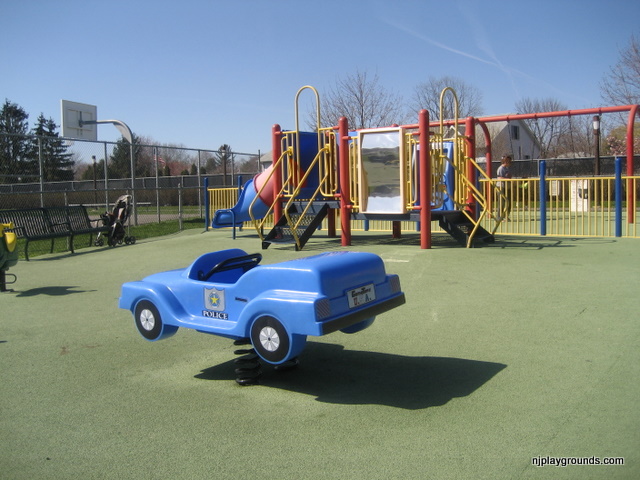 Directions:  287 N to exit 44/Main St, Boonton.  Turn right onto Lathrop, right onto Main St, right onto Boonton Ave and left onto Cedar.  Lastly, turn right onto Oak.
Parking: Small lot, especially when there's a ball game!
Picnicking: Small gazebo with no seating, picnic tables near the ball field, seasonal snacks available during ball games
Climbing: Stairs, ladders, double helix climb
Playthings: Tic-tac-toe, motorcycle, police car, snail, mirrors, steering wheel, looking glass
Slides: Two corkscrew, two small tube and one small open slide
Sports: Lit baseball field and full court basketball
Swings: Four toddler swings (separate and fenced off from rest of play area)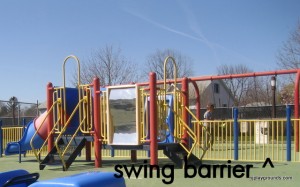 Walking Paths: Paved and lit path around the perimeter of the playground and ball field
Make a Day of It
Bowl at nearby Boonton Lanes or head back down to Main St to the Boonton Diner for lunch.  Travel on Myrtle Ave (also 202) to find more stores and shops including the Wal-Mart plaza with a Ricky's, Game Stop and an IHOP.
Do you know of any other NJ playgrounds with swing sets that have barriers?  Comment below the photos and we'll start a list! Also in Boonton Township is another great wooden playground/park, Boonton RVA Johanson