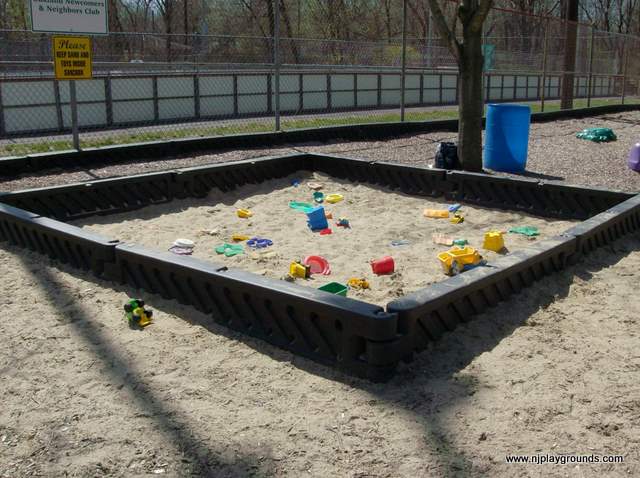 Ptl. Danny Hughes Memorial Pre-School Playground, is located on Oakland, NJ. Great playground for ages 0-5 only. It is a smaller area but it is completely enclosed with mulch ground cover. There is a large shade tree in the center with a wrap around bench that allows parents to see every angle of the play area. All Little Tykes equipment that is great for this age group.
DIRECTIONS: Route 287 N, merge onto Route 208 N to exit 58 Route 202/Oakland. Make a left at the light and cross over railroad tracks. Proceed to the third traffic light and make a right onto Butternutt Ct. Butternutt Ct splits-bare to the right onto Lawlor Dr. Take Lawlor Dr to the end and make a left onto Oak St. Playground will be on your left.
PARKING: Large unpaved lot close to the playground.
PICNICKING: Park is in recreational complex area with picnic tables.
MERRY-GO-ROUND: Four seater merry go round
PLAYTHINGS: Tic-tac-toe, steering wheel, play house, storefront, tunnels
SANDBOX: Large with toys
SLIDES: Three toddler slides
SWINGS: Four toddler
OTHER COOL STUFF: Large dinosaur and alligator play animals to sit and climb on
MAKE A DAY OF IT: Head back into town and have lunch at the Falls View Grill. They have a drive through if you are headed home or a large air conditioned seating area.