Hedden Park is located on Reservoir Ave (best entrance for playground) in lovely Dover, NJ.
Playground is hidden in the woods a bit, just past the picnicking area. A very scenic and restful area with a great big picnicking area and a beautiful pond. The playground itself is similar to all playgrounds at the Morris County parks, donated by Saturn, it's made of plastic and wood and offers fun climbing structures.
NJ 10 West, right onto Center Grove, left onto Von Nostrand. Left onto Reservoir. Use the entrance on your right (the sign is on the left.) Proceed about ¼ of a mile to parkling lot at end and pond.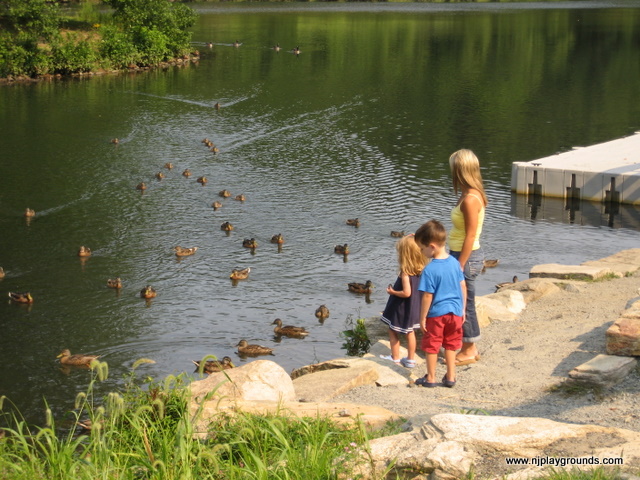 Parking: Many different lots, small lot near the pond is best for playground
Picnicking: Very large gazebo with fireplace next to playground, reservable and non-reservable picnicking areas throughout the park
Climbing: Rings, rope wall, parallel bars, step wall with repeller, ladders, crescent steps, fireman's pole and drawbridge
Playthings: Looking glass, steering wheel, crescent shaped benches underneath the equipment
Slides: One tube, three chute
Sports: Baseball fields close to playground area, fishing, hiking, snowshoeing, ice skating and bike trails
Walking Paths: Tons of hiking and walking trails
Water: Beautiful pond right next to playground with waterfalls and lots of wildlife (we saw a couple really cute turtles while we were there!)
Make a Day of It
Of course, like most of the County parks, you can easily spend a day at Hedden Park. Nick's Restaurant & Pizzeria is a good stop for lunch or dinner.