Greenview Park in Lincoln Park (Pequannnock NJ) is located on West Pkwy & Colfax Dr in Pequannock. It is a great park with a nice pond and fountain, busy fields, tennis and lots of other amenities. The playground is well shaded and located near the parking lot closest to the soccer field. A great spot for a larger picnic or playdate.
Winter Update!- There is sledding at this park, and I found a really sweet account from a blog about their memories of their youth and sledding. Here it is if you want to take a look.
Directions
287N to exit 47 which is 202N. Turn left onto Main Rd/US 202 and continue straight for 1 ½ miles. Turn left onto Jacksonville Rd and follow for 3 ½ miles. Turn right onto West Pkwy and continue for 1/3 a mile.
Parking: Large, multiple lots
Picnicking: Lots of tables and benches in nicely shaded areas by the pond and the playground
Handicap: Mulched ground cover, paved paths throughout park, one chair shaped swing with supportive straps
Climbing: Leaf shaped steps, stairs, log roll with beaver prints, river climbing wall, chin-up bars
Playthings: Prints underneath, steering wheel, tic-tac-toe, big dinosaur puzzles, two seater bench under play area
Slides: Two toddler, one corkscrew, two chute
Sports: Three shuffleboard courts, two handball courts, football, ice skating, fishing, sledding, six lit tennis courts and practice wall
Swings: Three toddler, six adult, one tire, one chair with supportive straps
Walking Paths: Paved around the park
Water: Pretty pond with fountain
Other Cool Stuff: A 2nd Little Tikesâ"¢ playground behind the tennis courts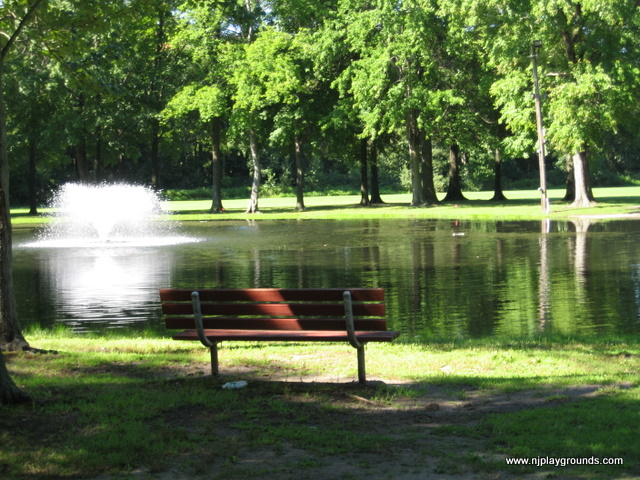 Make a Day of It
Check out Chicken Holiday, Subway or Ameti's Gourmet Pizza. Call ahead to visit Kid Connection and learn more about their workshops or parties.