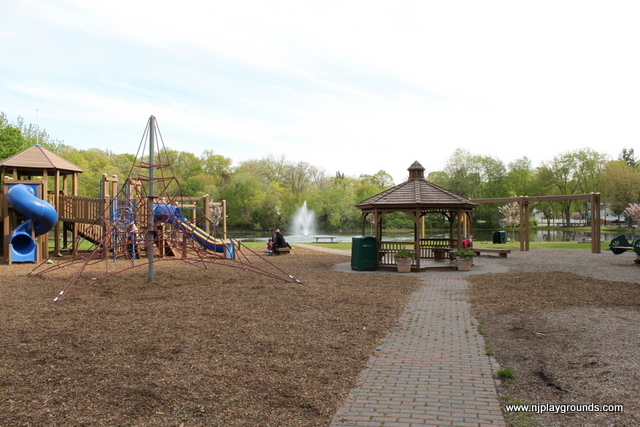 Thanks so much to Eva for another Roving Reporter submission! This playground definitely looks like a worthwile visit, great report Eva! Eva will now earn free passes to Imagine That!!! Museum for her report, see this link to find out how you can get passes too!

The Bloomingdale Community Playground at Bogue Pond is located on 132 Glenwild Avenue, Bloomingdale, NJ 07403
Link to Google Map
The Bloomingdale Community Playground at Bogue Pond is a wonderful playground just minutes away from the center of Bloomingdale. Freshly mulched every Spring and very clean with newer equipment. Open field to play sports and a small pond right next to the playground. 2 big wooden tree houses with slides and lots of climbing features. The smaller tree house is shaded for most of the day, the bigger tree house is more in the sun. Overall, it's quite sunny, and the equipment (swings, see-saw etc) can get very hot on high temperature days. Otto's Deli right across the street offers a big selection of snacks, treats and drinks. The porta-potty is on the "smelly" side, but I think that is not unusual for these kind of bathroom solutions. The pond always offers wildlife to watch, soon there will be little cygnets swimming around. It's our favorite park in the Bloomingdale area, it provides hours of fun and exercise for little kids with a never ending energy supply.
Tell us about the playground equipment:
Name of Manufacturer: – Built by Henderson
Climbing: Monkey bars, rings, fireman poles, rope pyramid, several walls to climb
Playthings: rope bridge, steering wheels, see-saw, zip line, log rolling
See-Saws: yes (1)
Slides: 1 single and 1 double toddler slides plus a big twisty tunnel slide
Swings: 2 baby swings, 1 toddler swing, 3 big kid swings – all nicely separated from the rest of the equipment
Other: Gazebo
What kind of amenities can you find at this location?
Parking: Free on the street next to the playground
Benches: 6 benches are scattered throughout the playground area
Food & Beverage: Otto's Deli right across the street (closed on Mondays)
Picnicking: Gazebo with benches
Bathrooms: porta-potty on site
Handicap Accessibility: yes, partially
Sports Fields: Open field (grass) next to the playground
Basketball: 1 court
Water: Bogue pond with a fountain right next to the playground
Walking Paths: Nicely paved all around the playground