Update: (8/27/2012) This park is private and only for members of the country club here.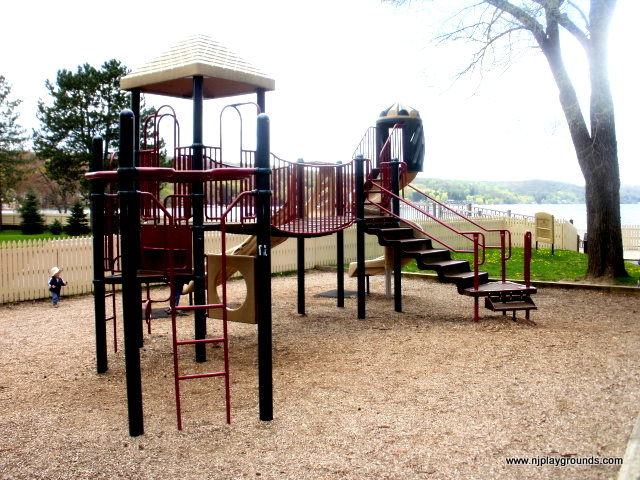 Thanks to Sharon for an excellent review on this small but breezy little gem. We are thrilled on our roving reporters who are giving us their unique perspectives on parks all across the Garden State. In return, reporters are getting free passes to Imagine That!!! For more information on this program, check out our Roving Reporter Post.
Sharon's Review:
The lake creates a nice breeze on most days in this smaller sized park, located a short walk from the country club. It is somewhat shaded, so this is a great park on hot/sunny days. Mulch under the play equipment and very small grassy area.
Street Address: 21 Boardwalk Pl Sparta, NJ(this is the address to the Country Club- the walk is a short walk down the street or boardwalk
Link to Google Map
Name of Manufacturer: Older child equipment by Miracle and Big Toys made the younger child equipment
Recommended Ages:
One larger playground for 5-12 year olds (as posted)and a pre-school playground for 2-5 year olds (not posted, but that's what is looks geared for)
Climbing: Two appropriately sized equipments for the stated ages. Larger one has 2 slides (one cork screw and one curved), bouncy bridge and several ways to climb up. Smaller equipment for the younger child has a mini tunnel slide, a double slide and a "rock" climbing wall.
Playthings: a ride on squirrel and ride on frog
Slides: on the climbing play equipments- a total of 5
Swings: 2 big kid and 2 toddler/baby— located on separate structures
Parking: on the street next to park… if that is taken up, you can park down the street next to the ice cream shop and pizza place and walk up the boardwalk
Benches: several benches on boardwalk facing park with back to the lake
Food & Beverage: nothing right there, but a short walk on the boardwalk takes you to several places to eat
Picnicking: a very small grassy spot in the park area if you bring a blanket, but you can walk over the bridge and there is a larger grassy area you can have more room to picnic
Handicap Accessibility: NOTHING- even getting a stroller in requires lifting down some stairs (unless you park down the road and walk up the boardwalk)
Water: beautiful Lake Mohawk with a great breeze on most days
Walking Paths: just the short walk on the boardwalk
Make a Day of It: Enjoy great pizza at Casa Mia or Clarks Crapes then after a walk on the boardwalk and playing in the park , return to eat some ice-cream at the Alpine Creamery. Not far from the lake is Sparta Books- which has a nice children's section and Tuesday mornings has Story time.