Located on Spring Valley Road and Coolidge Ave., Maywood Memorial Park Playground is a newer equipment playground in a large recreational area. The play area is completely shaded with large trees. The red, green, and white equipment has two different structures with lots of climbing with bridges, steps, and tunnels.
DIRECTIONS: NJ-4 E toward Fort Lee/ New York. Take the Spring Valley Rd ramp toward Oradell/ Maywood. Turn slight right onto Spring Valley Rd. Playground will be on your left on the corner of Spring Valley Rd and Coolidge Ave.
PARKING: Street parking on Wyoming Ave and Coolidge Ave, a parking lot on Spring Valley Rd
PICNICKING: Three picnic tables scattered throughout park
HANDICAP: There is a large ramp on one of the play structures. The ramp has accessibility from the parking lot via a path made of paver stones. There are puzzles and toys at the top of the ramp.
CLIMBING: Two corkscrew poles, wiggle poles, repeller, rings, monkey bars, steps
PLAYTHINGS: Tic-tac-toe, color matching puzzle, wheel spinning, steering wheels, tunnels
SLIDES: One corkscrew, one tube, one chute, two toddler
SPORTS: Baseball, basketball, soccer, handball
SWINGS: Two full size, two toddler
WALKING PATHS: There is a memorial paver path that leads from the street to the play area and a paved walking path around the entire park area
OTHER COOL STUFF: Memorial paver walkway in center of park, 9-11 Memorial sight with an American flag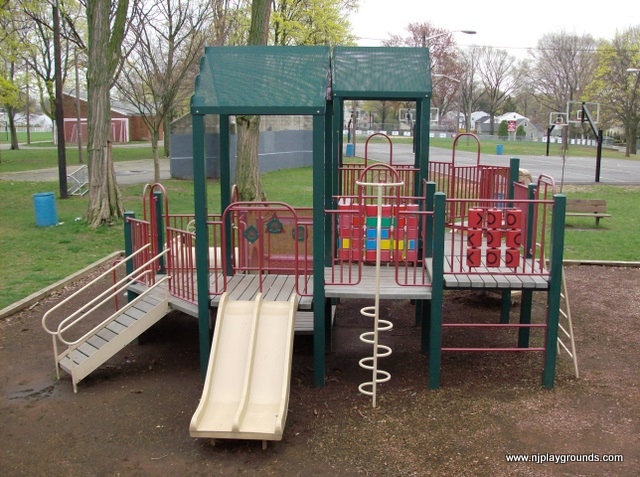 MAKE A DAY OF IT: Visit the newly renovated Bergen Towne Center located on Spring Valley Rd. The mall is full of outlet shopping and large anchor stores. Lots of great shopping and great deals!