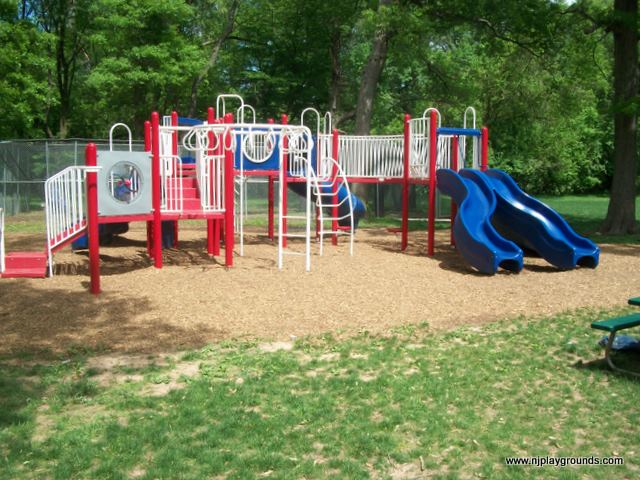 Another guest post by Sara Rall, which earns her 2 tickets to Imagine That!!! during our "Roving Reporter" promotion 🙂
McCoy Park, at the northeast end of 4th St just off N. Washington Ave. in Dunellen (Middlesex Co.) is a brand new moderate-sized playground at the local Little League fields.
My kids were very impressed with the patriotic colors. They have one big play structure with a cool "rain stick" propeller that I hadn't seen before, a stand-up swing thing, and a 4-person seesaw.
There is a very nice paved picnic area but no bathrooms. Looks like they sell food during games. Lots of shade.
See-Saws: bouncy 4-person seesaw type
Slides: 4; 1 tubular, 3 curvy
Swings: stand-up swing as seen on photo below
Benches: Benches are located in the play ground
Food & Beverage: Yes during games
Picnicking: Yes
Handicap Accessibility: None
Sports Fields: Yes, little league field
Make A Day of It: Dunellen Family theater is close by where you can order pizza and beverages from the tavern and they'll bring it to your seats while you watch a movie. A great place with moveable coffee tables, which gives plenty of room for strollers.