Update 9/9/2015: Wow, I just joined the I Grew up in Hasbrouck Heights Facebook Page. Holy memories Batman! If you grew up here, you should join us. Great way to see a little history of our town. Tons of reminiscing. I even found the guy that owned our old house on Jefferson!
Here are the pictures of when my parents moved in June 2013, great view of the field: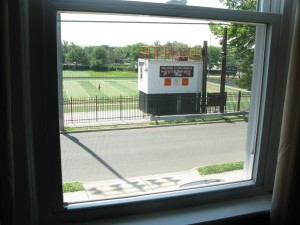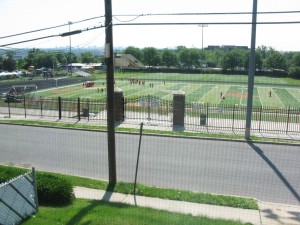 Going to ask the group if they can post some historical pics. If you are a new parent here, we have some great memories and hope you start your own.
Oldfield Avenue, and Ravine Avenue, Hasbrouck heights, NJ.  Warning, this paragraph contains mushy memories stuff… Ahhhhh, my old hometown,  where countless football games have been played, and I wore an orange and black marching band uniform fit for every year's Halloween.  Wish I still had it for a costume now… I think my brother taped over all our band performances, high school memories with NBA basketball games. Well he also taped over his little league games, so I won't take it personally… Greetings to all those from Class of 92, and fellow bandmates, glad to reconnect from the last 2 informal reunions.  And those who haven't reconnected look forward to doing so in the future!!  On with the review…
Well, now they have redone the field, and it looks great and they have included a new small playground.  Depken field actually borders on Rt. 17 (fenced away from it of course).  Tiny playground adjacent to football field, with 2-5yrs, and 5-10yrs in one structure.  It is completely fenced in with magna-latches on both entrances, with that shredded rubber tire material on the ground surface.  I do not like that the benches are outside the fenced area, but that is my personal preference.  The adjacent football field/track was recently redone so it is in excellent condition. Restrooms are closeby.  Some tasteless graffiti in the kids tunnel, that would go over little kid's heads, from some observations, lots of older kids hang out here after school.   Take a look at the pictures to get a good look..
ADDRESS: Franklin Ave & Oldfield Ave
DIRECTIONS: From I-80E take exit 64 to NJ-17 S and after about 1 ½ miles take the Franklin Ave ramp and turn right onto Franklin. Oldfield is just slightly up the hill. Turn right onto Oldfield and once you pass the football field make a right into the parking lot and take it to the bottom of the hill to park closest to the playground.
DESCRIPTION: Nicely fenced in with new playground equipment in a busy sports complex that includes the town pool. Rubber mulch. Equipment meant for 2-5 or 5-12 year olds. Not much shade. Sure to be busy on the weekends!
PARKING: Medium lot next to the playground.
PICNICKING: Tables just outside the fencing for the playground. Other tables available in the complex. Seasonal snack bar open during some games.
CLIMBING: Chin up bar, colorful arches to climb, monkey bars, rocky step wall, ladder of circles, tubes
PLAYTHINGS: Baseball themed tic-tac-toe, steering wheel, call boxes, board with sign language alphabet
SLIDES: One toddler, two chute – one tall and steep and the other twisty
SPORTS: Home of the high school football team, running track, fitness stations, town pool, backboard, three busy baseball fields
WALKING PATHS: Running track – no strollers allowed
WATER: Town pool – need membership
MAKE A DAY OF IT: There are many fast food restaurants available on Route 17.