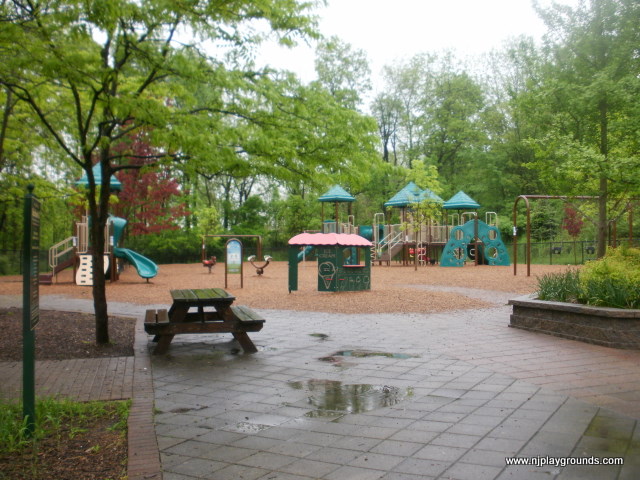 Thanks to Sharon D, for contributing this park during our Roving Reporter promotion!
Station Park is a great big clean newly redone park with many things to do. There are 2 play grounds- Kids Kastle which many people know and see upon entering the park, and a smaller, less known, little gem in the back of the park area.
Station Park is located just off 517 near the intersection for 15 in Sparta, NJ. Link to Google Map here
The park is clean, well maintained, spread out and easily a full day activity. The larger play area does get hot on warm summer days- not a lot of shade and no breeze. The park in the back is a lot smaller, however it is nicely shaded for those sunny days. The front park is fenced in on 3 sides, the back park has no fence around the play area. There is a lot to do at Station Park- enjoy the bike paths, the fields and the 2 playgrounds after school hours it does get crowded with children and sports teams.
Name of Manufacturer: Game Time
Recommended Ages: In the front playground: One larger playground for 5-12 year olds and a pre-school playground for 2-5 year olds
In the back playground: One larger playground for approx. 5-12 year olds
Climbing: In the front playground: Two appropriately sized equipments for the stated ages. Larger one has a tunnel, several fun ways to climb up, drums, and a wall of circular holes that you can climb. The smaller equipment for the younger child has a rock wall, slides, and steering wheel and play things.
Playthings: The front playground: bouncy balance bean, ice-cream store (for imaginary play), musical instruments (plastic drums,shakers, bells and
Other- front playground has a bouncy thing that is similar to a see-saw that 2 children can bouncy on
Slides: No independent slides, all are attached as part of the climbing play pieces. (A total of 5 in the front park and 2 in the pack).
Swings: In front playground: 3 big kid, 4 little kid, 1 tire swing, 1 handicap swing. Back playground has 2 big kid swings
Parking: Large parking lot for the front playground, the smaller playground has a small gravel area you can park in, but if that is taken you can drive a bit further and there is a lot
Benches: many picnic tables
Picnicking: aside from the picnic tables next to the playground areas, there is a covered area at the beginning of the park next to a pond where there is plenty of grassy room for a blanket picnic (just watch out for geese and their droppings!)
Bathrooms: port-a-john
Handicap Accessibility: there is a special swing
Sports Fields: yes- skate board ramps, baseball, soccer, field hockey etc
Water: small pond
Walking Paths: bike trails