Located on 451 Route 94, in Vernon NJ, Heaven Hill Farm is a great day trip for folks looking for fall fun with the kids. We went here after suggestions from our facebook fans. On the weekends & holidays it is $7/person (kids under 3 are free) (weekdays $5/person) Our kids had such a great time. Their highlights:
Corn Maze, Hayride and Pumpkin Patch
Finding the pumpkin patch not via the hayride but through the corn maze! The hayride line gets longer the later you wait, so we chose to do the corn maze and skip the patch. My son exploded with delight when he found an exit through the corn maze straight into the pumpkin patch. We picked our pumpkin and then got on line for the return trip on the hayride, which was perfect! It was fun seeing the scary ghoulish displays in the daytime on the way back, not too scary, but my daughter winced a bit at some of the displays. These must be very frightening at night for the older crowd!
Gem Mining
For those who haven't seen this at every attraction/amusement park, for $5 you get a sifter, a bag of dirt mixed in with some gems, and your kids get to collect the gems they find in a small bag. I got each kid their own bag to avoid the whole "he got x stones and I didn't" argument, and that worked out though you can opt for the economical option, the larger bag and have the kids take turns. My middle child loved this, and I have a feeling we'll be doing it again when we see it at other places. They also had sand art too.
Clown
Not sure if the same clown is there, but when we went to eat, the guy was great. For him to keep the attention of all 3 kids, and make the middle one crack up, I have to give him some praise. Very funny show.
Amusement Rides for 36″ and over
Tilt-a-whirl, small funhouse type with slide in the end, small roller coaster, carousel, and more.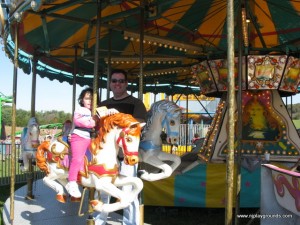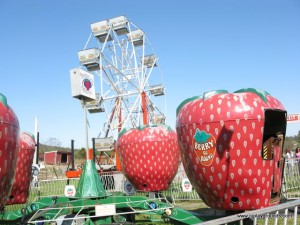 Duck Races
Nice setup for kids to manually pump water and float ducks down the line.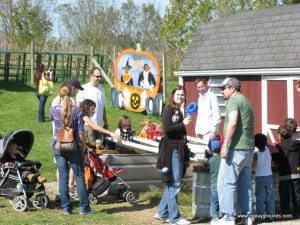 Robots Singing
A 2-minute distraction of robots singing halloween tunes, monster mash, etc. Cute..
We had a great time, and didn't get to all the attractions, so for more information, check out their website, or this youtube video.
Make a Day Of It: Also if you want to add a free attraction to your day in the Vernon area, make sure you visit Hand in Hand Playground in Vernon which is off Route 91 as well! We have a great review from Amy!
FOR MORE FALL FUN
There are so many places to go in NJ for Autumn happenings.  Check out this post on what our fans had to say of what NJ fall attractions they enjoy best!