Update 6/2023- Video tour of the new playground.  Nice upgrade but the tire swing is no longer there. Which was my kids' favorite.  
Pics below are for historical purposes only
The following is part of an article I had written for the Cranford Patch, back in September of 2009, since then Nomahegan Park continues to be a favorite for our family. Located on 1033 Springfield Avenue, Cranford NJ, Nomahegan is situated right across from Union County College. If you like to run, the Firecracker Four Miler happens around July 4th, so make sure you check out Cranford Patch for their upcoming events.
"Living in Union County for about 10 years and being a parent for almost five, I've explored many parks in the area. Nomahegan Park is one that we always run back to.
Home of countless festivals, events, company and family picnics, Nomahegan Park lures people from all over to make use of their playground, grills, scenery and winding paths. Here's a look at why this park might be ideal for your needs.
Shady Playground for Pre-School and School-Age Kids
I've since visited tons of playgrounds this summer with my two boys and newborn. Nomahegan sported the right amount of shade—a big thing for my family on those hot, sunny days.
We also found that during the school seasons, school playgrounds are limited to after-school hours, leaving town and county parks as great options. Nomahegan Park offers a complex playground with climbing structures, slides and both bucket and regular swings. Note that it can get downright soggy when we've had some rain, which can make it a challenge to navigate with a stroller. Tell your kids to watch out for the little car structure, which sometimes fills with water.
The park might also benefit from a fence, especially for groups of two or more kids. My adventurous 4-year-old gravitates toward the woods, which can make it tough with two others to chase after. (Still we find him, dust him off and push his reset button.)
Bikes, Trikes or Walk It
Perfect for bike-riding, September weather beckons us to take advantage of the park's 2-mile loop. Join the walkers and joggers, and take a walk with the kids over the bridge across the lake.
Kids Fishing Derby
If you are a parent who likes to fish and wants to introduce the sport to their kids, check this out.
Rahway River Trout Unlimited holds an annual kids fishing derby in late September. Parents are encouraged to bring fishing poles if you have them; if not they will have some available to borrow for the event so everyone gets a chance. The two age categories for the competition are 4-12 years and 13-18 years. Biggest fish wins first pick at the table of fishing pole prizes.
Slightly off topic: The organization is also slated to help Hillside Avenue School sixth graders learn about and raise trout. For more information on this event and others, contact Mike Rediger at 908-868- 8236.
Want to Have Your Own Event?
Part of a mom's club? Host for a birthday party? For $30, you can rent a picnic area complete with grills for up to 99 people. Beer and wine permits cost extra. Check out the Union County Web site for reserving a picnic area for up to 299 people."
UPDATE ON BIKE ROUTE!!!!
My son recently learned to ride and we took a quick video on our bikes, check it out!
UPDATE ON BIKE ROUTE (2017) FOR LONGER ROUTE!!!!
So we have loved this bike route that takes us to Blackthorn Pub, you can do the nomahegan loop, but then cross the street of that little lot on Kenilworth BLVD and head towards the bike path to Black Brook park, and then up the street, then lock up the bikes and have lunch!!! Follow Yellow route….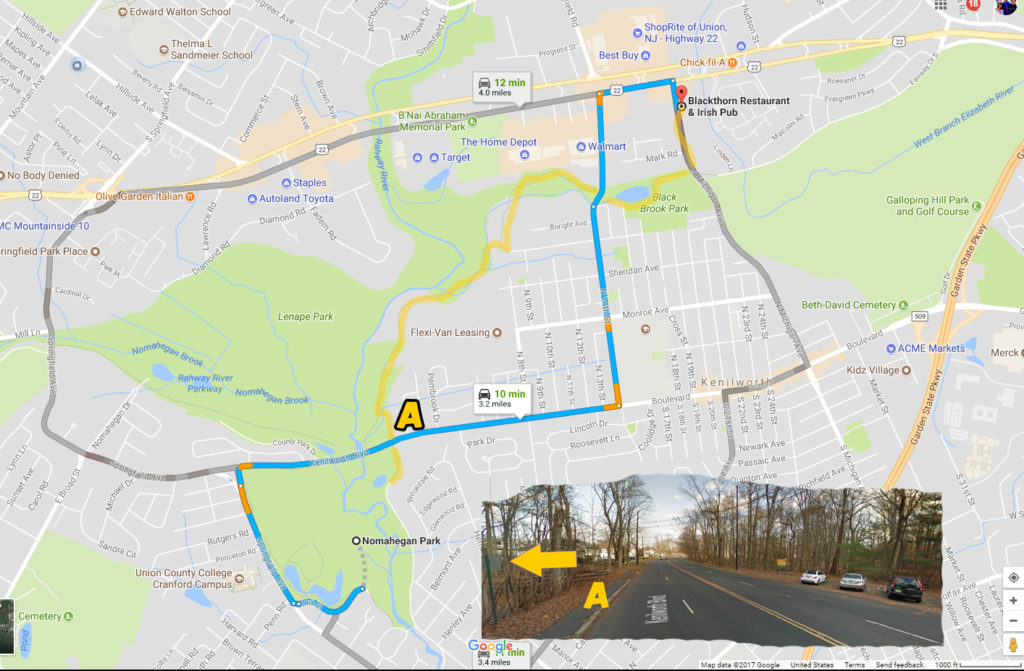 Original Post:
This park has a great 2 mile loop for joggers/walkers, and a nice lake.  Plenty of community events get scheduled on the weekends in the summer here, and you'll often see some parties in the picnic areas.  When I posted on a messageboard about Nomahegan playground, one poster remarked it was dirty and gross and there are others nearby that are better. Hopefully we can get some feedback to show those as well.  I'd love to get more of the favorite playgrounds out there, so please send your photos/comments!!! Here are my pics: