Cameron Field is located right across The Baird in South Orange (5 Mead Street).
We parked right by the tennis courts and walked across the soccer field to get to the playground set in the back.
This playground is a bit aged, but it was a fun one to visit with its many ramps, climbing structures, and my daughter enjoyed hiding under them. 
If you have kids who love trains, the NJ Transit train runs frequently right above the park.  Zip_line_ is not working. 
During a very cold day, this playground was still occupied, so I imagine it must get busy in warmer weather.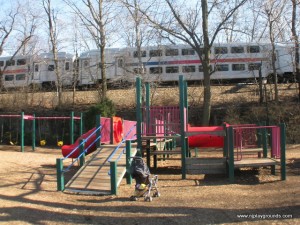 Recommended Ages: Not posted
Climbing:Â  Rings, poles, monkey bars
Slides: Various Slides including an old-school metal twisty one
Swings:Â  2 tot swings, 2 regular swings
Parking:Â  Located by tennis courts by Baird, need to walk across field to get to playground.

Benches: Only recall one bench at the playground
Sports Fields: Lots of open fields
Tennis: tennis courts by parking area
Check out our pictures for more details!