Orchard Park is a lovely wooden-style castle playground located in a quiet street in Maplewood NJ. If you have been to the Loop at Watchung Reservation before they started renovating it, it has a very similar look but in a much smaller scale. My friend Bin had recommended it to me as a former Maplewood resident.
Located at approximately 23 De Hart Road in Maplewood, this park is listed on Ridgewood Avenue on the internet, but you can only gain entry via De Hart Road.
Brought our picnic basket, and WE LOVED IT!!! What a treat, for those that live right next to it. It was perfect for our 3 year old children! This was the perfect quiet street playground. Bin mentioned that you can arrange to reserve the park and have a party via the Maplewood recreation department.
It's a fun place to have a soccer game, and if it rains there is a convenient shelter right by the tennis courts.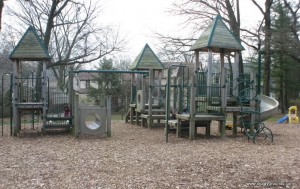 Recommended Ages: 2-5yo
Climbing- Monkey bars, poles, and spiral climbing bar
Slides: Toddler slides and a tunnel
Swings: for both big kids and tot swings
See-saw: Bouncer
Bathroom was locked, but I believe it is open for parties/events
Benches
Picnicking: Small covered shelter and some benches, picnic tables
Other Cool Stuff: Big open field for a soccer game. Check out more of our pictures below!