Editors Note: I love twitter. Our friend Georgette from Barista Kids tweeted about the video we linked below which featured a playground in it. She then connected me with Sandy Rustin, creator and director for "Rated P for Parenthood" so that I can find out where this funny video was filmed. Link to our giveaway for tickets for two to see this musical in its last week in NYC! (Closes April 8, 2012)
Grove Park, is a small park located on Park Place in beautiful South Orange, NJ. It is a small park for the pre-school age kids, with a nice walking path loop. It is a nice short walk to downtown South Orange, home of some great restaurants and shops. Nice tunnels for kids to crawl around. Some shade and benches are scattered through the park.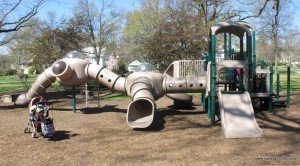 Climbing: Stairs, chain link ladder, spiral pole, monkey bars
Swings: 2 tot swings, 2 big swings
Picnicking: No tables but some benches
Trails/Walking Paths: walking paths paved
Other Cool Stuff: Maplewood mom, Sandy Rustin, wrote "Rated P The Musical", and filmed "The Parent-Teacher Conference video" to promote it. Rated P The Musical is now playing in the 299 seat upstairs space at Off-Broadway's premiere theatre, Westside Theater in NYC. Rated P chronicles every stage of modern-day parenting, from conception to college, jokes about "having the talk" with your kids, dealing with puberty, and school issues, like going to the Parent/Teacher conference. Check out the video below that features this playground!!!