After a facebook fan commented that this was her favorite park, that isn't too far from my house, I was delighted to take my 3yo there.  Lions Park is a shady park with equipment for both pre-school and school-age children. It has some great equipment to climb on picnic tables and benches and 2 sets of swings. Parking on the street. It was quiet here, but met some really nice moms, hi Genie, and Carolina, thanks for showing us the way to the creek! Wood chips.
And in the spirit of Instagram, ta da! playground with filters!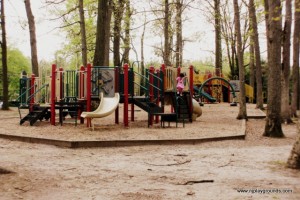 Address of Park: 15 Constance Rd, New Providence, New Jersey
Name of Equipment Manufacturer (Optional): Gametime
Recommended Ages: 2-5y, and 5-12y
Slides: Super fun fast slide that is twisty tubular and many other kinds
Climbing: lots of monkey bars ladders, poles
Swings: big swings, tot swings
Park Amenities: benches, picnic tables
Water: Shallow creek is nearby, favorite spot for some of the kids to splash on the rocks with their boots..
Other Cool Stuff: Really cool new type of seesaw, check out this video of BigToys Rock n Cross! Lots of tall trees with a big area for the kids to go "adventuring" and picking up some sticks. Lots of sand in the area that my 3y loves to put her hands in..