Who out there loves DINOSAURS? Heck, who doesn't love them???? And whoever thought you'd find some live ones right here in the Garden State!
Sheila and I (with 6 kids between us!) had the great pleasure of visiting the new Field Station: Dinosaurs. It officially opens Saturday May 26th, 2012. This amazing new dinosaur park is located just off the NJ Turnpike in Secaucus right before Laurel Hill Park (which has a playground too by the way!) Â I put Laurel Hill Park in Secaucus in my GPS and found it easily.
The setting is superb! I spoke with VP and Chief Operating Officer Jayme Powers while I was there and she said "We really tapped into a great location. The terrain is so unique." She went on to explain that the dinosaurs are situated in four different areas; in the woods, near a quarry, on the plateau – which really highlights the traditional meadowlands ecosystem – and then up on the lookout.  The lookout offers an amazing vista and views of the NYC skyline.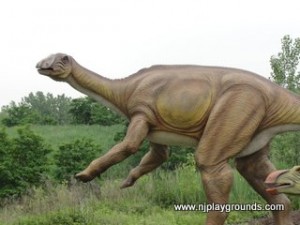 My children "interviewed" Powers and found out it takes 120 employees to run the Field Station and that the team began talking about the project a year and a half ago and only began working on it last August.  Once you visit you'll get an appreciation for how much was done in just 10 months. I expressed my amazement and Powers laughed and said "Yes, I could use a nap!"
When you explore  "Field Station" you walk on 3/4 of a mile worth of paths made of natural elements that lead you through the 20 acre park. There are more than 30 life sized animated and very realistic looking dinosaurs. Yes, they have large teeth and make loud noises. But, we were there with lots of kids and didn't see any get super scared. A few squeals here and there, a couple tears maybe, but for the most part the crowd was full of 2-12 year olds who just seemed truly amazed.
I think it's like anything. You never know how your kids will react to something they haven't experienced before. However, as we toured this adventurous attraction we met many friendly guides ready to help in anyway and make sure everyone is having fun. We enjoyed two thrilling live shows and played a couple games. One game was called "Raptor Feud" and the other "Mesozoic Concentration."
The live shows are held daily. One was a "Dinosaur Meet and Greet" and the audience got to meet adorable baby dinosaurs and then a walking T-Rex. The 2nd show featured the same  animated 15 foot T-Rex and was called "Feeding Frenzy." My son Eddie got to be the "meat" in the show and you can imagine what happened to him!  Both shows were really entertaining and educational too.
We took note of multiple shelters and lots of props all around the park to help make you feel like you were on a real dig, dinosaur hunt or out observing the wild. There'salso  a large "site dig" made of sand that the kids can explore as part of the Paleontology learning center. There are four learning centers in all… paleontology, geology and ecology, climatology and earth science and an ornithology center. There's also lots of great signage with fascinating facts.
The park will be open seasonally. In 2012 from May 26th through November 12th. In the beginning and end of the season, weekdays are reserved for school groups only and the weekends are open to the public from 10am to 6pm.  From July 2 through Sept 2 Field Station is open to the public every day from 10am to 6pm.
As you get ready to visit, make sure you pack sunscreen and bug spray. This is a completely outdoor experience and it's a bit rustic. The paths are not paved, they are made of loose clay, stone, dirt, etc. So,leave the Jimmy Choos at home and wear comfortable shoes. If you need to bring a stroller you might want to opt for the one that can handle slightly more rugged terrain.
Admission is $25 for adults, $20 for children 12 and under and children under 2 are free. Visit their website for more pricing information, directions and information on field trips and birthday parties.
Most of all, enjoy your visit!
Make a Day of It: Check out Laurel Hill Park, complete with breezy playground, which is very close to Field Station: Dinosaurs!