Editor's Note: Thanks to Stacey Maisch for submitting this review of one of my newest favorite parks! Stacey blogs regularly on "From Grind to Whine". Check out her bio below! For her submission Stacey earns 4 tickets to Asbury Splash Park. If you want to earn tickets to this perfect summer spot, click here to find out more about our Roving Reporter Promotion.
The Loop Playground is tucked inside the Watchung Reservation in Mountainside, NJ. They recently tore down the all-wood playground equipment and replaced them with newer all-weather climbing structures. Since this is such a beautiful, natural park, I was skeptical that anything but wood would look right and that this playground may lose that natural feel we had grown to love. I am so happy to say that I was wrong. This new playground, while built with the metal and plastic structures that will hold up to weather, still manages to feel natural and fits in with the lush green surrounding landscape.
Two new climbing structures have been erected, both featuring towers, tunnels and caves, all made to look as natural as possible. The larger side of the playground is ideal for older children and features five different slides, one of which may be the tallest, steepest slide in the area. The oldest kids will get a thrill out of zooming down this one. Lots to climb here, too, including two heavy-duty rope walls and a fantastic, tall, rock wall formation. Six big kid swings hang along the back side of this section. A full row of Tunnels, caves, bouncy bridges, ladders, lookouts, drums and steering wheels make this a playground dream.
Across the picnic area patio is the younger set of playground equipment, great for smaller children. This structure mirrors the natural finishes and its tallest tower even features a "carved" tree trunk with woodland friends like a fake owl and squirrel for the kids to examine. Wider slides and bridges over here are great for parents who need to stay close to the little ones as they play. This side also has a full row of baby/toddler swings for the little ones, too.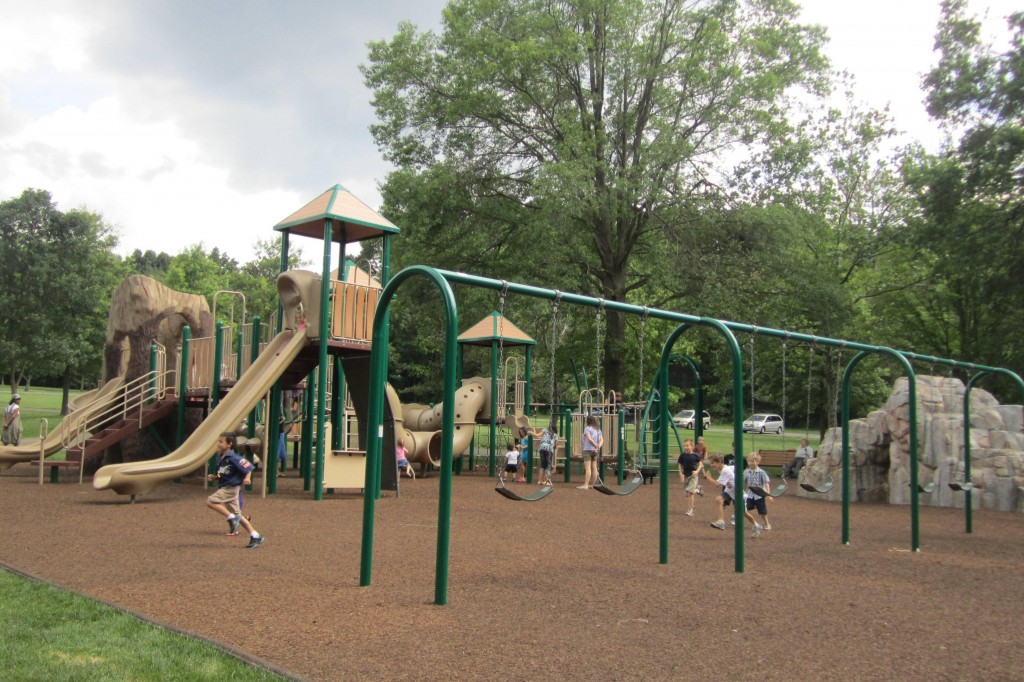 The entire playground area is surrounded by wide open green spaces for the kids to run, and also has a paved path that winds around the whole park, great for bike riding. There are public restrooms here, too, but they're a bit of a walk across fields to get to them from the playground. I'd recommend stopping the car on this side of the park on your way in for a bathroom break before driving around to the playground side to park, especially if you have more than one child with you.
Part of the park is still under construction, but the work is all fenced off, making the playground very safe. Rumor has it this may be a splash pad area when it is finished. If that is the case, bring bathing suits, bikes, and a picnic and plan to spend the day here, because the kids will not want to leave!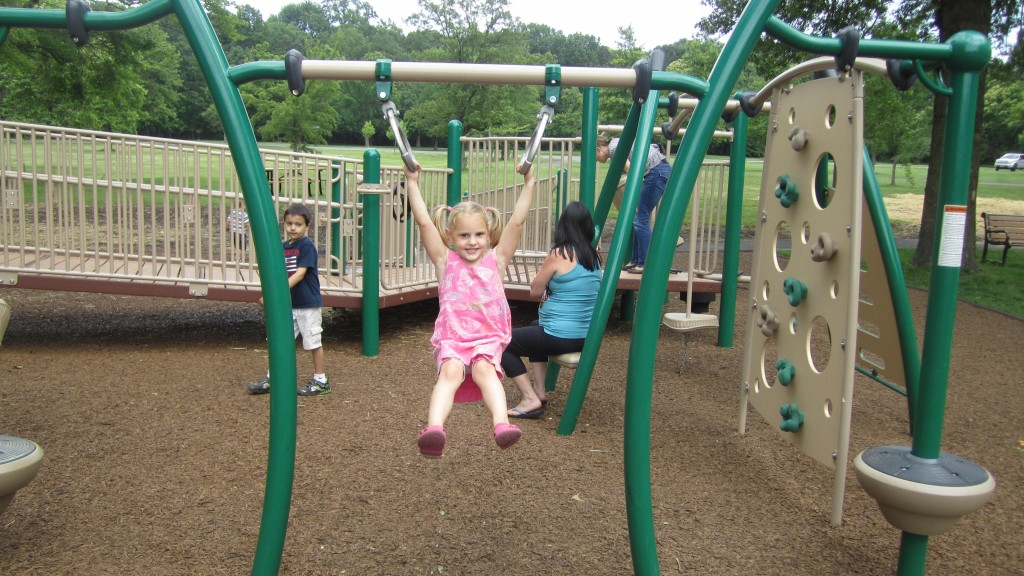 Slides: 5 big kid slides and 3 for little ones
Climbing: Ropes, walls, and climbing rock formation
Swings: 6 each of big and little swings
Park Amenities: bathroom, benches, picnic tables, drinking fountain. New Gazebo
Food & Beverage: Bring your own
Water: Water misters!
Trails/Walking Paths: Walking/Bike path plus trail connecting to Trailside Nature Center
Make a Day of It: Make sure you check out the Trailside Nature Center that is easily accessible by the trail mentioned above or you can drive to the parking lot that isn't too far away.
Bio: Stacey Biemiller Maisch is a mom, blogger, freelance writer and tutor. Stacey grew up in Morris County and is a true Jersey Girl at heart. Stacey and her family recently moved back to NJ after living in Charlotte, NC for six years. A graduate of Penn State University, Stacey is a former English Teacher turned Computer Systems Analyst turned stay-at-home mom. She still has no idea what she wants to be when she grows up. She has written articles for CharlotteMommies.com, The Mommies Network, South Jersey MOM magazine, The Alternative Press and AOL Patch. Stacey is happily married and is a proud mom to three young children. Check out her blog, "From Grind to Whine" here
.