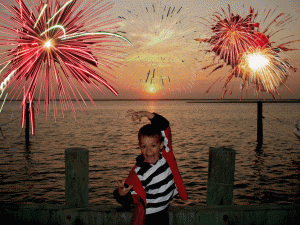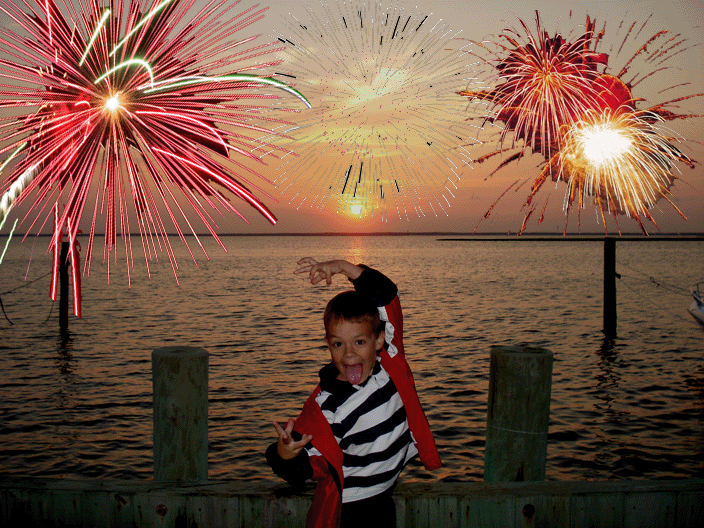 School is out for the summer!!
We look forward to checking out the fireworks and the entertainment that comes with it.
If you are looking for a park in NJ to check out the fireworks, here you go!  Please check back for updates, we keep adding as we get new feedback, so if we are missing yours comment below.  🙂
All the listings below (except when noted) are from NJ Leisure Guide and you can click here to get more details.
Bad news for Red Bank's famous 4th fireworks at the Navesink River, it has been cancelled 🙁 here's what Middletown Mike has to say about it.
Did I miss one?  Comment below!!!
North Jersey (Bergen/Hudson/Passaic):
Allendale- 7/4, Wed. Saddle River Valley Concert Band to perform at Crestwood Lake, (West Crescent and West Maple AVe.) followed by 9pm fireworks
Bloomingdale at the Middle School (June 29th/Rain date 30th)
Clifton- 7/4, from clifton nj town website: CITY PICNIC & FIREWORKS DISPLAY
"Wednesday, July 4th (rain date July 7th picnic only) from 12:00 noon – 6:00 p.m. (Picnic)
Dusk (Fireworks)
Enjoy the City of Clifton's fun filled picnic with family and friends at Main Memorial Park. Great food, crafts, health screenings, clowns, free activities and rides for the children. Family races and events will take place between 1:00 p.m. – 3:00 p.m. For information about becoming a vendor, please contact the Mayor's Office at (973) 470-5757.
The City of Clifton fireworks display will be held at Clifton High School Stadium on Wednesday, July 4th. The Clifton Community Band will perform during the pre-firework concert. Tickets cost $3.00 per person and will be available at the City Clerk's office. For more information, call the Mayor's office at (973) 470-5757."
East Rutherford (State Fair Meadowlands) July 3 and 4, for more info. check out their website here.
Englewood- 7/2, Monday- 7:30pm celebration and fireworks at Dwight Morrow High School 274 Knickerbocker Rd. free (rain date is 7/9).
Fair Lawn- 7/2, Monday- Memorial Park (Berdan Ave & First Street), gates open 7:30pm, fireworks at 9. (in advance) $7 admission, children under 12 and seniors $5, prices jump to $9 admission, and children under 12/seniors $7 after 5pm, to get more details visit here on the Fair Lawn website.
Hackensack- all day celebration beginning at 10am on 7/4 at Foschini Park, 278 River St. fireworks at 9:15pm.
Hasbrouck Heights (via HH website):  Fireworks  Depken Field,  July 2, 2012 (RD Jul 3, x-RD July 5). $5 adults, $3 children,  under 5 free. Sponsored by Hasbrouck Heights Lions Club.
Hoboken/Weehawken (Macy's 4th of July in NYC is viewable from these cities they will have fireworks firing from six barges in the Hudson River, between 24th Street and 50th Street on the West Side of NYC.)
Lyndhurst (7/3, behind little league fields Riverside Park, on Riverside ave) starts at 6pm, fireworks at 9pm (free open to public).
North Arlington (7/4 300 Schuyler Ave. Zadroga Field) 5PM open to public to watch Macys 4th of July fireworks along Hudson River!
Paramus (7/1, Cliff Gennarelli Sports Complex, open at 7:30pm, fireworks following) Rain Date July 8th.
Ridgefield (7/3, Veterans Memorial field 554 Shaler Blvd) Band The Neighborhood performs at 6pm, followed by fireworks at 9PM
Ridgewood (July 4th at Veterans Field) Link to tickets
River Edge (July 3rd at 215 Continental Ave. Veterans Memorial Park food served 6:30pm, music at 7:30pm)
Saddle Brook (7/3 9PM Fireworks RESIDENTS ONLY Otto Pehle Park ID required)
Secaucus (7/2 9PM Fireworks at Secaucus Swim Center, 2000 Koelle Blvd)
Tenafly (7/1 Fireworks dusk behind high school 19 Columbus Drive)
Wayne (July 2nd at High School) From WaynePAL Website: "Gates Open at 6pm; Variety of Activities and Rides for Children
Food Tent
DJ
Magicians
Clowns
North Jersey (Morris/Essex/Union/):
Chatham- 7/4- Chatham Middle School- Chatham Borough Website
Chester's Fireman Festival and Carnival is June 19th through the 23rd at Chubb Park – lots of activities and fireworks! Click here for all the details.
The Town of Dover Fireworks Celebration and Concert is scheduled for Tuesday, July 3rd at Hamilton Field starting at 6:00PM. Rain Date is Friday, July 6th. Bleacher seating only. No one will be allowed on the football field.
Denville- from the borough website: "Denville 4th of July Fireworks at Gardner Field
Entertainment prior to show by RSVP 50's Style Music
Band will play from 7 til 9"
East Hanover (July 4th) Wednesday, concert and fireworks with music starting at 8:30 p.m. and fireworks after dark, Lurker Park main field
Florham Park (July 4th Emmett Field) Full Day Celebration, check out their link for more info!
Hanover (7/1- Monday, Whippany Park High School, 165 Whippany Road, with entertainment beginning at 7 p.m. and fireworks at 9:15 p.m. Rain date is July 5. Announcement is on Whippany Park website)
Lincoln Park (7/4 at JDT Medical Rehab Center, 503 W. Pine Brook Road, fireworks 9:30pm, check out this link/flyer for details on shuttle buses. (Rain Date 7/7)
Mountain Lakes celebration will be on  Wednesday, July 4th at 9:00 PM – shooting them over the lake! Click here for more info.
Randolph has a tw0-day "Freedom Festival" starting June 28th through the 30th. Featuring the best fireworks show in the county plus a parade, games, food, bands, rides, attractions, arts & crafts and much, much more! Activities all take place at the County College of Morris, located at Center Grove Road off Route 10 in Randolph. Click here for more info.
Summit (July 4th at Memorial Field on Ashland ave.) Check their link for more info.
Springfield (July 4th at Meisel Park) Event starts at 5PM, pony rides/petting zoo and trackless train ride, 7:30pm concert followed by fireworks, check out township website for more info.
For Maplewood (Memorial Park), South Orange, Millburn, West Orange and Montclair best link is Barista Kids Georgette always comes through, here is her latest post on it!
North/Central Jersey (Somerset/Middlesex):
Bridgewater (July 4th at North Branch Park) From the Somerset County Parks website:Â  "Each Fourth of July, the Somerset County Park Commission sponsors the Independence Day Family Festival, with live musical entertainment, children's activities, historical reenactments, and a grand fireworks finale. "
Franklin (June 29th Fireworks) see flier below! Parking at DeMott Lane and Amwell Road. For more info. check township website.
Central Jersey: (see NJ Leisure links for the actual date and more info)
Asbury Park (Boardwalk); Atlantic Highlands(Municipal Harbor); Bradley Beach (Boardwalk); Freehold (Freehold Raceway); Hazlet (Veterans Memorial Park); Long Branch (along with Oceanfest 2011); Princeton (Princeton University)
Jamesburg, Thompson Park starting at 5PM on July 4th, see link

South Jersey:
Barnegat, Cape May, Ocean City, Point Pleasant, Seaside Heights, Stone Harbor, Tuckerton and Wildwood
Atlantic City via AtlanticCityNJ.com: On July 4, 2012 at 9:30 pm, The fireworks show titled "Let it Rock" is approximately 20 minutes in length and is visible for a one mile stretch of the Boardwalk and beach from Revel Resort on Metropolitan Avenue to The Atlantic Club on Boston Avenue. The show is being created by one of the top names in fireworks entertainment, Fireworks by Grucci. It will be choreographed to music which will be broadcast by 95.1 WAYV FM radio.
Didn't find what you are looking for? Check out Best of NJ's guide to fireworks too! A great write-up complete with photos.