1001 Hudson Street, Hoboken, NJ.
You can park in the residential permit only parking spots as long as it is less than 4 hours. Â 
I failed to read the sign so got a metered spot on Sinatra Drive that goes up to 12 hours, 25 cents/every 15 min.
It was refreshing to spend the afternoon in this park. One thing about cities, you can always guarantee playmates at the playground, something that isn't true in many of the small playgrounds in suburbia.
So there are 2 playgrounds, with spongy flooring, great slides and swings and benches.
It is fenced in, and there is a fenced area for dogs too..
Bathroom is located near the fence overlooking the Hudson and there is a Starbucks in the building on 12th and Hudson.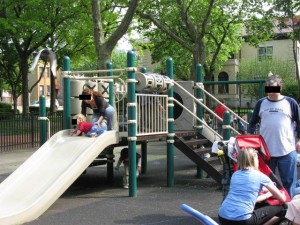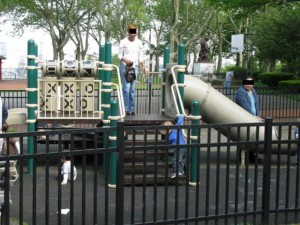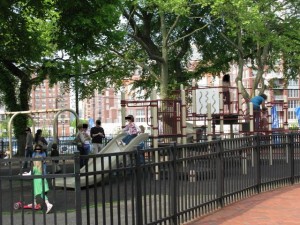 If you want to walk a few blocks, venture to the small "beach" area, where the kids can play in the sand (no swimming) (around 10th and by the water?)  if you park close to the first metered spots nearest to the light on 11th and Hudson and enter the walkway going toward the water you'll see a big "no bathing sign" .  I couldn't believe this existed, and minus the old tire floating around it was quite beautiful with a great view of NYC. I had to pay homage to Stevens in the picture below.  Alot of memories there.

Right next to this beach area is Maxwell Park (tagged as SSEQ Small Safe Enclosed Quiet, if you disagree please comment below).. Here are some pics of this little gem including a great view: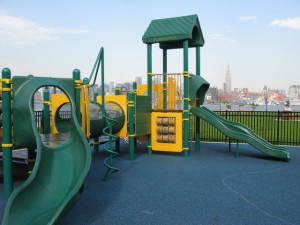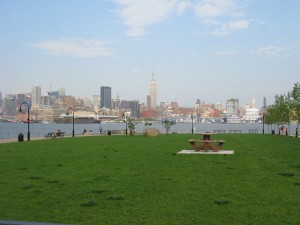 Many thanks to Desiree for giving me the grand tour. Without her I would not have this great inside information!  If you are a mom or dad and need a great resource for what's going on and ideas for things to do in the area, visit www.hobokenmetromom.com