Editor's Note: Playground season is here again, and we have received one of our first roving reporter posts! Christina earns 2 passes to IMAGINE THAT!!! A Discovery Museum for Children in Florham Park, NJ.  She shares this park which is in South Brunswick NJ.   If you want to be a roving reporter too, check out details here. 
Name of Park or Playground: Woodlot Park
How many stars would you give this park on a scale of 1-5? 3-4
Town: South Brunswick (Kendall Park)
Street Address: 124 New Road, Kendall Park
Link to Google Map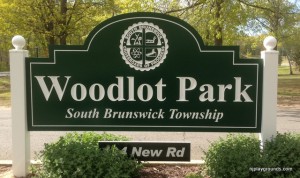 Description:
A shady park with a lot of activities to keep the kids busy! This park features several playground equipment for the kids to play on as well as baseball fields, basketball courts, volley ball court (sand), bike trail, tennis courts, picnic areas, and a pond.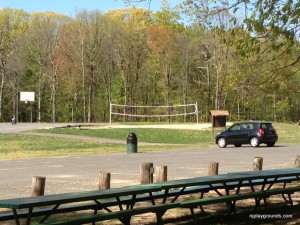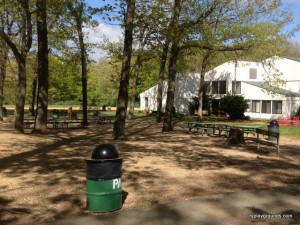 This park was hit hard by Hurricane Sandy and lost a swing set and glider to the storm. But it is still a great park. Bring lunch and make an afternoon of it! There is a community center located next to the park that has an inside bathroom. The doors typically close around 5pm on weekdays unless there is an event taking place inside. There is a port-a-potty on location if the facility is closed.
There are 2 separate large playground equipment, 1 for older children with a bridge and another for smaller children with a tunnel. I will warn that the tube slide on the larger equipment is VERY FAST! I have seen a few kids fly out of it and hit the ground on their backsides! There is also a train for kids to pretend in as well as a Double Dino Slide! There are only 2 baby swings located at the park.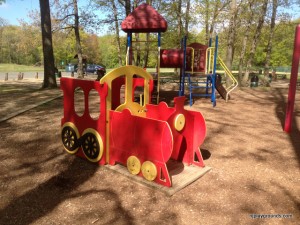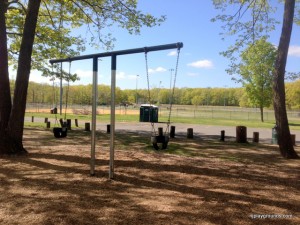 I have seen kids ride bikes and roller skate on the basketball court if there was no one playing.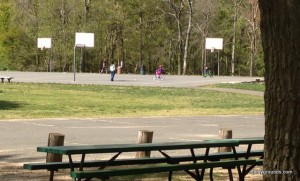 Tell us about the playground equipment:
Name of Manufacturer:  Built by Gametime
Recommended Ages: One larger playground for 5-12 year olds and a pre-school playground for 2-5 year olds
Climbing: Monkey bars and several ladder type things to climb on the large equipment
Playthings: Tic-tac-toe, bridge, tunnels, animal matchups
Slides: Double toddler slide, 1 twisty slide, 1 small tunnel slide, 1 large tunnel slide, double dino slide, and 1 small curve slide
Swings: 2 baby swings
Other: Walking path marked with Fun ideas to play with kids. Signs throughout the park with Try This activities on them. (see picture)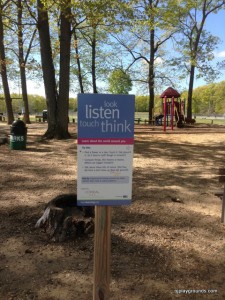 What kind of amenities can you find at this location?
Parking: 2 parking lots
Benches: Several picnic benches (Heavily shaded)
Picnicking: Great shelter with lots of tables
Drinking Fountain: Not sure for outside¦.one located inside community center
Bathrooms: Bathrooms located in the community center (only opens weekdays till 5pm) also a porta potty (you can see it behind the baby swings in the picture)
Sports Fields: Lots of open fields
Basketball: Full court with at least 4 nets
Tennis: 2 Tennis courts
Water: A pretty pond right next to the tennis courts
Walking Paths: Small path in middle of park
Make a Day of It: Bring a bike or scooter, a few sport balls, and a lunch and make an afternoon out of it!