We asked our Facebook fans to tell us their favorite place to go to grab a bite to eat AND play at the same time. We got such  a huge response that we couldn't resist writing it up! Below is a wrap up of what's hot, some  direct comments from our fans, and more. We're also looking for hot spots and new ideas and places to explore so visit out facebook page or leave a comment below if your favorite spot isn't listed or if you have any ideas to share!
The below pie chart will give you sense of where busy parents and caretakers in NJ head to play and get some grub.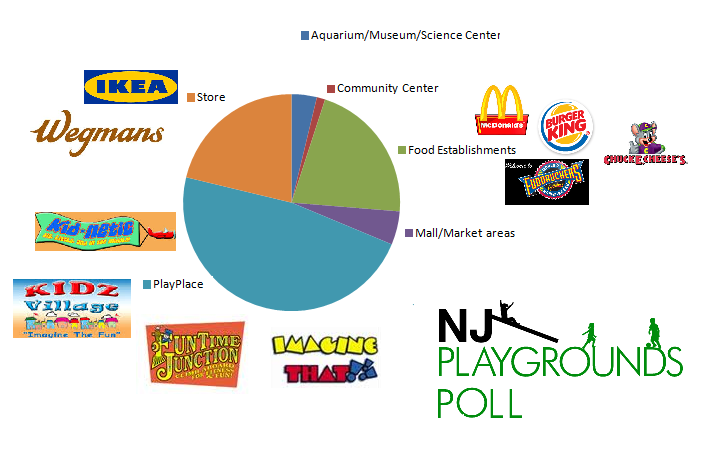 We received so many comments, we had to break down a few categories.
The Play Place
First of all, #1 category would be of no surprise, the Play Place! Funtime Junction, Imagine That, Kidnetic and Kidz Village were fan favorites for a place to eat and play.
Check out reviews for these top faves here! Another big hit was iPlay America in Freehold, which Kelley E. says "so much to do there and REALLY great food!!".
Other fan favorites include: Funtime America in Cliffwood The Funplex, in East Hanover Giggles Playstation in Rockaway The Jump Zone in Hillsborough (gotta visit this one, we haven't reviewed it yet)
You can check out our reviews for iPlay America, Funtime America, the Funplex, and Giggles Playstation here!
Jumpnasium in Fairfield (one of my boys favorites) and Monster Mini Golf in Edison (We've been to a few parties, and the kids really enjoyed it) both made the poll.
World of Wings in Teaneck was a favorite by Carla D.
The following were fun sounding places recomended by our fans that we've got to go check out next…
My Little Adventures in Mount Laurel
R Bounce in West Long Branch
Rebounderz in Edison
The Store
Our second most popular category of a fun family place to eat and play is labeled "the store". We were surprised to see how many families mentioned IKEA as their top pick in a place to eat and play. Both IKEAs in Paramus and Elizabeth were mentioned.
Carolyn H. said "Yes deff, Ikea … when I lived in Hong Kong in the late 80's and shopped there my oldest played there … now fast forward to now and my oldest blessing has a family and brings them there to play … full circle of happiness … I so love Ikea "
Sarah S. said "Kids eat free on Tuesday. They can play for an hour while you shop and then when they eat, they can watch plane, trains and automobiles!"
We did see a fantastic view of Newark Airport when we went to get some bookcases for our office, and better than the airport to take a kid to see some big planes land and take off at the Elizabeth Ikea location. We also did use the child care there which is great when you want to shop without the kids. This is the indoor play place people refer to. My daughter enjoyed it when we went, but it gets pretty packed on the weekends.
Another Ikea fan, Kristine wrote "They have huge indoor play ground plus a cafeteria inside!! The kids love to watch the planes take off and land in Newark. Plus if you are an ikea family member they get an extra 30 min to play plus you get a free coffee!!!!"
Next up is Wegmans, something that I wasn't familiar with since there isn't one real close. But there are two cities that had some feedback from our readers, Wegmans in Bridgewater and the one in Woodbridge. LaVonne R. comments that the one in Woodbridge has "a playroom so you can shop or eat upstairs." Kristin agrees: "I have to agree with the Wegmans in Woodbridge! My daughter loves playing there while I food shop and they have a great selection of food to eat there!"
Next time we visit Woodbridge we will definitely have to check it out.
Other cool stores/malls to visit:
Barnes & Nobles is another favorite that was mentioned for its train table and cafe.
Princeton Marketfair- "We can walk around or run around, depending on the amount of energy my kids have. We then go to Barnes and Noble where they have toys to look, at activities to play with, & books to read. Then we can choose any number of places in the mall where we want to get lunch. And, if you're really in the mood, there's always the movie theater! It's got it all! "- Randi K.
Quakerbridge Mall (play area by food court) and Woodbridge Mall (that has Tiny Town indoor play area)
Food Establishments (NJ Restaurants, chains, fast-food, and the unique)
In third place, we got the most responses on the traditional food establishment that is friendly for families. What's great about our facebook fans is we keep learning about more places to go, and we had to highlight a few new places that were named!
McDonalds- Although we've seen quite a few playlands disappear in McDonalds they still are going strong in Flanders, Marlboro and South Brunswick according to our NJ fans. You can check out the nearest store with a playplace by going to the McDonalds site here.
Burger King in Wayne and Bound Brook were also mentioned for a great place to play and eat and a cheap lunch play date for Nicole C.
Chick-Fil-A has a new play place that's small in Union on Rt 22 center island.
Fuddruckers (Succasunna, Bridgewater and Wayne) was a favorite as well, and Katie B. specifically advised that the Bridgewater one "has a game room, magician/balloons certain nights"
Chuck E. Cheese got a bunch of comments as well and a positive note about the salad bar there! I will have to try that next time we go to a birthday party.
And our Unique Finds for this week!!!!
Baked in a Cup is a cute cupcake place located in Ramsey NJ. From their website: "Our Cupcakes and Cakes are baked fresh in the wee hours of the morning using the finest quality ingredients like Valrhona Chocolate and Madagascar Bourbon Vanilla. We specialize in Swiss Buttercreams. All our frostings, fillings and batters are handcrafted from scratch using fresh ingredients. We are proud to say that we are a 100% shortening free bakery and our cupcakes do not have any preservatives."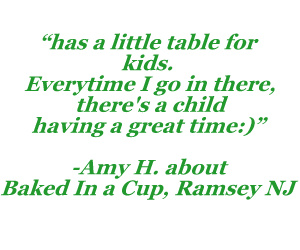 Another dessert type place made the list- Dawn M. added a self serve yogurt place- "Sketch Yogurt on Nassau Street, Princeton. They have a piano, coloring, games and books for all ages. There is free wifi,too. So, my 6 yo and 16 yo can both enjoy themselves. The yogurt is yummy too! They always have Eurotart (22 calories) and a Dairy Free option as well as the fun and traditional flavors."
BCD Tofu House is located in Fort Lee NJ. From their website: "From a single shop in 1996, to 16 restaurant branches worldwide today, BCD Tofu House celebrated its 14th anniversary in 2010. Inspired by a passion for spreading Korea's wonderful cuisine around the globe, BCD continues to focus on taste, health benefits, food quality, health benefits and so much more."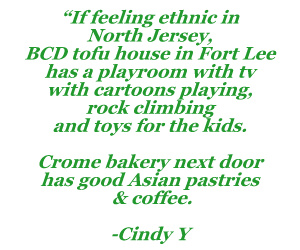 Wobble Cafe is located in Ossining NY, so it's a bit of a trip, but made an impression on Robin G. who commented about the play area there.  From the website, it sounds very inviting!  "Wobble Cafe is a cozy, comfortable, child friendly neighborhood restaurant with a gourmet chef who studied under Emeril. Art exhibits and children's drawings grace the walls, and children play in an inviting (carefully cleaned!!!) play area among the tables.   We serve Lunch Tues. – Sun., Dinner Thurs. – Sat., & Brunch Sat & Sun. Many vegetarian selections are available from a totally eclectic menu."
Last minute addition is "Loradella's family pizza located in Newport (Jersey City) recommended by Geraldine P.: "It has an arcade in the back and it is soooooo kid friendly. Always clean, we love this place."
 Where is your favorite place to dine and play?  Comment below!!! Or join the conversation on our facebook page!