We are always on the lookout for a new unique place to go. Â Wanted to share this special spot with all our readers and fans :)Â 
Update: 1/3/2017- 1/5/2017 (one showing at 5pm for Sing Movie) see details here
Do you have a special unique spot to share, comment below!
 A few years ago my friend, Sue, shared this place with me.  A movie theater perfect for families with young kids. 
Dunellen Cinema Cafe
 is located on 458 North Avenue, Dunellen, NJ. They are currently showing "The Lego Movie" till 3/6/2014 and then Mr. Peabody starts on 3/7.
What makes this theater special?
One screen only, and regularly shows the kids movies (not in 3D)
Reasonable Prices.  From their website:  "Our ticket prices are $8.00 for adults and $6.00 for children and seniors.  You can either order anything off our Tavern menu which includes a variation of sandwiches, salads, appetizer, children menu and more.  Take advantage of our Pizza Special which is 1 large cheese pizza and a pitcher of soda or beer (yes you read that correctly) for $15.75.
Room for a stroller.  Who would bring a baby to a movie theater? Anyone!!! It's the place for it, at Dunellen, they feature kids' movies where it's intention is for families to come in relax and wheel in the stroller.  They took out every other row in the theater for coffee tables that are easily moved around.
You can choose to dine in and bring drinks from the bar to your seat.  Buy your tickets, and then order your food to be served to you at your theater seats.  The theater shares an open entrance to "Zupkos" a bar restaurant with a regular menu.
Birthday Parties
We just completed a birthday party here, and it works well especially if the kids like the movie that's playing. Â They have a few selections, and we opted for the $330 selection (20 kids, 1 slice/popcorn each). Â You get the whole balcony if you like. Â And you have to bring in the cake/cupcakes, favors. Â NO BALLOONS because they are a pain to get down if they go up.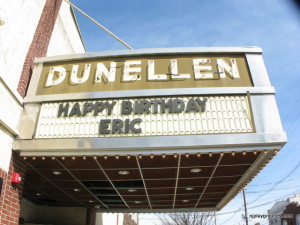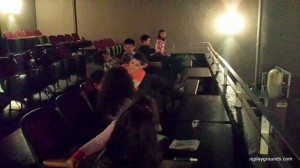 Highlights:
You get to have your birthday person's name on the marquee

It's a family friendly theater so you can bring strollers
The balcony gives you a lot of room and it allows the young kids to walk around.
You can order food and drinks from Zupkos bar that is in the same building
Have a freezer to store an ice cream cake if needed
Party host Alison was great!
For more fun ideas on birthday parties check out our latest Facebook roundup of what our fans think are great birthday party places for girls on our Great Girl Galas in the Garden State Birthday Post! 
Do you have a place that is a little unique and great for families? Have you had a party at a dine-in theater? Â What did you think? Comment below!