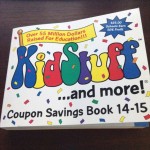 On September 23, from 10AM-1PM, we will be selling KidStuff Books at our table at our Mommy & Me Event at Imagine That!!! in Florham Park! To purchase tickets for this great event check out this link!
$25/book
CASH ONLY
Proceeds to help Walton School in Springfield NJ.
Preview all the coupons available using this link!
Here is a copy of the full index: