Editor's Note: This Exclusive Discount is brought to you by NYC Mamí on the Move – Quad State Queen – If you are looking for current hottest spots in NY, NJ, PA and CT with exclusive discounts & giveaways we encourage you to follow her on her platforms here:
FB page
Instagram page
With our collaboration we hope to build a library of places to play with unique perspectives and showcase active parents who are passionate about sharing new finds, and she does an AMAZING job.
***EXCLUSIVE DISCOUNT*** Dino Safari
Freehold Raceway Mall 9-21 to 11-5- Daily 4pm-10pm
Code Below
– It's open in the area until November, then a Holiday show in Nov – Jan.
The Dino Safari also has brought some Halloween lights
out this season. They're open 7 days/nights a week. It's more than just a walk thru that you can attend in the day or evening, they also have interactive stations like: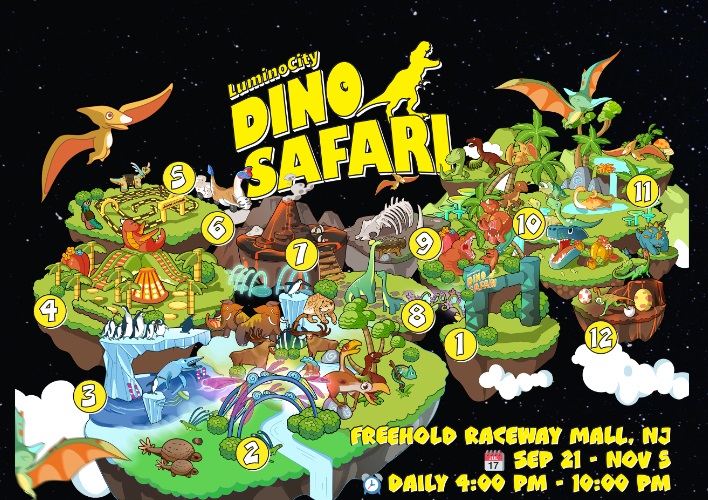 1. Adventure Entrance.
2. Meganeura Tunnel
3. Prehistoric World
4. Dino Paradise Bounce
5. Dino Speedway Ride
6. Oviraptor Express
7. Volcano Bone Valley
8. Brave heart Square
9. Jurassic Fossil Dig
10. Clash of the Titans
11. Dino Continent
12. The Egg Hunters
Link to reserve tickets: https://www.luminocityfestival.com/reserve-tickets
USE CODE: NYDINO15
ORIGINAL POST BELOW from NYC Mami on the Move for more Exclusive Discounts!